Clarksville, TN – Austin Peay State University (APSU) head men's basketball coach Matt Figger, in the last two seasons, has added a grad transfer who proved to be a huge piece of the puzzle. In 2018, Averyl Ugba earned all-conference honors; in 2019, Jabari McGhee was an instrumental reserve in Austin Peay's first 20-win season since 2011.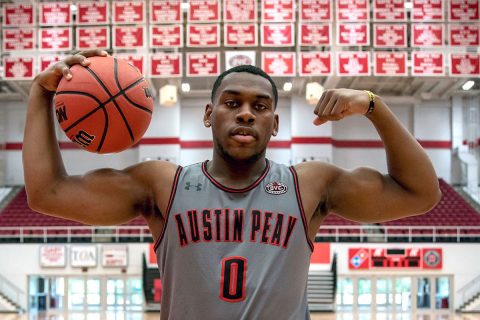 Figger now goes back to the well in hopes of adding another difference-maker in Reginald Gee, a guard from Alabama State.
Gee was a three-year starter for the Hornets, leading Alabama State in scoring in each of the last two seasons, earning second-team All-SWAC honors after averaging 13.0 points in 2018-19. He led Alabama State to its first SWAC Tournament semifinal appearance since 2015, scoring 10 points to lead the sixth-seeded Hornets past No. 3 seed Jackson State.
Gee proved capable of rising to the occasion against quality opponents—he led Alabama State in scoring against Iowa State, Iowa and Liberty during the 2018-19 season, with all three later advancing to the NCAA Tournament.
In 92 career games for the Hornets, Gee averaged 12.4 points and 4.1 rebounds, shooting 40.4 percent from the floor and 38.8 percent from three. He also improved his free-throwing shooting over the years, hitting at a 73.8 percent clip for his career after a 65.9 percent showing as a freshman.
"He's going to add a lot of toughness and experience," Figger said. "He's a proven scorer. He was an all-league guy (at Alabama State), which I think translates well to our league. He'll give us experience in the backcourt and he'll provide a lot of leadership."