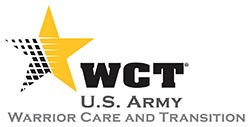 Arlington, VA – Nurse Case Managers, like Liza Finnegan, at the Warrior Transition Battalion, Fort Campbell, Kentucky are there to help wounded, ill and injured Soldiers embrace the change and adapt to their new normal.
Poet Nikki Giovanni once said, "A lot of people resist transition and therefore never allow themselves to enjoy who they are. Embrace the change no matter what it is and once you do you can learn all about the new world you are in and take advantage of it."
"[Some wounded, ill and injured Soldiers] do not know how to slowly transition or how to find themselves again because they feel like their identity is lost," Finnegan said. "I think that is why our role as Nurse Case Managers is so important, being able to recognize the issues and help them through the process."
Finnegan, who is celebrating 10 years at Fort Campbell, knows she has to be ready to assist with returning a Soldier to duty or transitioning them out of the Army. She has assisted Soldiers on issues ranging from physical to mental to financial, and all of that can weigh heavy on any Soldier.
"Every patient who is in this organization either had an injury, illness or disease that brought them here. Soldiers arrive at the WTB to recover, overcome their injury, illness or disease and return to duty or transition to veteran status. Many times, Soldiers come here because they have to, not because they want to," Finnegan said. It is life changing, not only for them, but for their families," Finnegan added.
Making the effort to build a rapport immediately helps Finnegan establish a relationship with Soldiers in her care, especially when it comes to their families. She also tries to learn what their expectations are when they arrive at the WTB.
"I think the most important aspect of being here is communication – part of our duty to help the Soldier is that rapport. For me, I want to know what is happening with them beyond the medical report because that helps me help them. It is about more than their medical issues, they are a person and you have to treat the whole person," said Finnegan.
Finnegan encourages all Soldiers newly assigned to a WTB to engage fully with their Nurse Case Manager for a smoother transition and to speak freely about their concerns. In her office, she says nothing is off limits when it comes to venting, questions or concerns.
"I do not want anyone to feel that they have to internalize something because it stays bottled up inside of them. Soldiers should not have to pretend everything is okay. That is a challenge for Soldiers, admitting something is not right – that is not the Soldier way," according to Finnegan.
Almost sounding like a reporter, Finnegan tries to learn everything she can about her Soldiers from their skills and passions to their goals and dreams. Nurse Case Managers know how to manage, teaming up with transition coordinators, physical therapists and other members of the cadre to get all the knowledge they need.
"We do not have all the answers, but we are not shy to say, 'Hey! Let's call this person or that person. We will get answers!' You cannot be shy and be a Nurse Case Manager!"