Clarksville, TN – The Austin Peay State University (APSU) soccer team will wrap up preseason play when they take on Western Kentucky in a 6:00pm Sunday, August 18th, 2019 exhibition match in Bowling Green, Kentucky.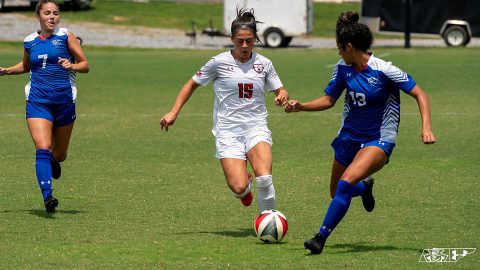 Last season the Hilltoppers came to Morgan Brothers Soccer Field for an exhibition that ended in a 1-1 draw.
This year the Governors travel to the WKU Soccer Complex for their final exhibition, looking to gain momentum heading into the regular season.
Western Kentucky is coming off a 2018 season that saw them go 5-8-4, and miss the Conference USA Championship. The Hilltoppers have already played two scrimmages this season, defeating Murray State (2-0) and losing to Wright State (1-0).
The Govs first exhibition had a familiar feel to it, with eight returning players in the starting eleven. Seniors Mary Parker Powell, Renee Semaan, and Melody Fisher all got the start for the Govs, with Powell starting in goal and Semaan wearing the captain's band. Juniors Claire Larose, Morgan Drawdy, Abby Therrell, and Ashley Whittaker also got the starting nod, with the trio of Larose, Drawdy, and Whittaker accounting for six of the Gov's ten shots. Sophomore Kaylee Kraft was the final returner from the 2018 roster to be in the starting eleven against Georgia State.
The transfer-trio of Maeve Kelly, Tara Mannix, and Alexandra Maslowski completed the starting eleven for the Govs in the first exhibition. Mannix and Maslowski both transferred to Austin Peay as sophomores this season, while Kelly begins her career as a Governor in her junior season.
Heading into the Western Kentucky match, the Governors look to build off of an aggressive offensive attack in their first exhibition. The Govs turned up the intensity and controlled play in the second half against Georgia State, doing everything except put a ball in the back of the net, despite having double the amount of shots on goal.
The Sunday exhibition at Western Kentucky will be broadcasted on Facebook Live by the Hilltopper Sports Satellite Network.
The Govs will kick off the regular season next weekend with a 5:00pm Friday night match at Chattanooga, followed by a 5:00pm Sunday match at Middle Tennessee. The Govs will kick it off for the first time this season at Morgan Brothers Soccer Field when they play a 7:00pm August 30th match against Mercer.