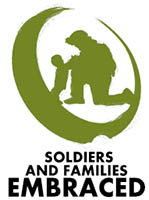 Clarksville, TN – On Friday, August 16th, 2019, McReynolds-Nave & Larson Funeral Home donated $10,000 to Soldiers and Families Embraced (SAFE).
Funeral home partner Tom Creech made the presentation at the SAFE office. "On behalf of Ed Larson and myself we want to present this check to the SAFE organization here in Montgomery County for the good work that you do in support of the community," said Creech.
"This gift will help our team provide up to 150 counseling sessions," said SAFE Executive Director Christina Watson.
SAFE delivers individual and couples counseling services for Active duty Service Members, Veterans and their Families. These services are provided at no cost, and no insurance is required and is not affiliated with DOD or the VA.
SAFE is a non-profit organization funded through grants and private donations. SAFE is located at 1812 Haynes Street in Clarksville Tennessee.
About Soldiers and Families Embraced (SAFE)
The mission of Soldiers and Families Embraced (SAFE) is to serve as a resource for the community to provide confidential counseling, increase accessibility, and develop culturally competent mental healthcare providers. SAFE works towards peace and healing by providing professional counseling services, advocating for clients, decreasing incidence for families and the community alike. In addition, we strive to help develop cultural competence for future mental healthcare professionals who work with the military population by offering internships.
In this way, SAFE is are able to directly address the constantly growing need for well-trained, culturally competent providers capable of delivery quality mental healthcare.
For information call 931.591.3241 or visit their website at www.soldiersandfamiliesembraced.org