Clarksville, TN – Third-year Austin Peay State University (APSU) men's basketball head coach Matt Figger has announced a challenging slate for the 2019-20 schedule, featuring multiple contests against high-major competition.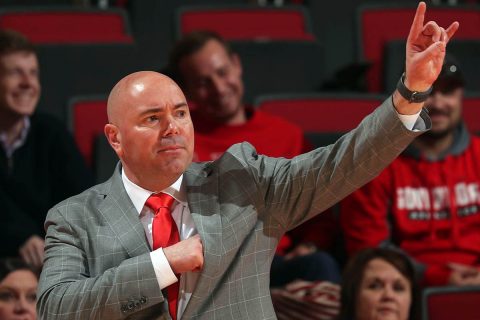 Austin Peay will face four—count 'em, four—Power Five opponents before the calendar turns over to 2020. This is in addition to the 14-game home schedule—16 if you include exhibition contests—which will take place on the newly-refurbished Dave Loos Court.
The Govs also will make a repeat visit to the St. Pete Shootout—there will unfortunately be no title defense, as the event has moved from tournament to classic format for the 2019 edition.
"The schedule is, for lack of a better term, hard," Figger said. "It's tough. It's going to test us from day one. We've got a three-game road stand that will really test us a team. There's visits to West Virginia, Arkansas and Georgia."
"We've got two neutral-site games in St. Petersburg with no home court advantage to give us a good measuring stick ahead of Christmas. It's going to challenge us, challenge our leadership. We have to speed a lot of things up fast," stated Figger.
After taking no exhibition contests a year ago, the Govs will have two in 2019—Union College, October 24th and Lees-McRae, November 2nd. Those predate the regular-season opener against Oakland City, November 5th—the fourth-straight season the Govs have opened the home slate against the Mighty Oaks and the third time since 2012-13 Oakland City has served as Austin Peay's regular-season opener.
The Governors first three road games will be as challenging a three-game nonconference trip as any other Ohio Valley Conference squad will face this season. The Govs get the road trip underway with a November 9th visit to Western Kentucky, seeking their first win against the Hilltoppers since 1999.
That's followed by a Austin Peay State University's first-ever trip to Tulsa to take on the Golden Hurricane, November 16th, in their fifth season under former Miami head coach Frank Haith. The trip wraps up slightly closer to home against Vanderbilt and first-year head coach Jerry Stackhouse, November 20th.
For the first time since December 2017, the Govs will host back-to-back Division I opponents when Southeastern Louisiana (November 23rd) and South Carolina State (November 25th) visit the Dunn Center to close out November. Former Gov Ed Stephens, a grad transfer in Figger's first season at APSU, is an assistant on the South Carolina State coaching staff.
December begins with a visit to Arkansas, the Governors second-straight journey to Fayetteville, December 3rd. The Govs then return home to host North Florida for the first time since 2015 in a December 7th contest before venturing back out on the road to take on another high-major in West Virginia, December 12th. APSU then wrap up the nonconference home schedule against McKendree, December 17th.
Austin Peay's return appearance at the St. Pete Shootout begins December 21st against Duquesne, with the December 22nd contest scheduled to be against Alabama State. The Govs then break for Christmas before returning to the road to wrap the nonconference slate at Georgia, December 30th, for the program's first-contest against the Bulldogs.
The Govs open up 2020 and the Ohio Valley Conference schedule January 2nd against Southeast Missouri, followed by UT Martin (January 4th). Austin Peay then embarks upon a season-long four-game roadtrip, taking the Govs to Tennessee Tech (January 9th), Jacksonville State (January 11th), Southeast Missouri (January 16th) and UT Martin (January 18th).
But for the rest of January and over half of February, the Govs won't leave the midstate area. Following the road trip, Austin Peay gets a four-game homestand against Tennessee State (January 23rd), Belmont (January 25th), SIU Edwardsville (January 30th) and Eastern Illinois (February 1st). They follow that with return trips to Tennessee State (February 6th) and Belmont (February 8th) in Nashville before returning home to host Murray State (February 13th) and Eastern Kentucky (February 15th).
The Govs close out the regular season with three of four on the road, beginning with the Illinois journey to take on SIUE (February 20th) and Eastern Illinois (February 22nd). The season's lone battle against Morehead State comes February 27th in the home finale, and the Govs once more close out the regular season with a trip to Murray State for the second leg of the Heritage Bank Battle of the Border contest.
For the third year in a row, the OVC Basketball Championships will take place in Evansville, Indiana beginning March 4th, with Championship Saturday set for March 7th. The 2020 NCAA Men's Basketball Championships begin Tuesday, March 17th with the First Four in Dayton, Ohio.
Below is a brief summation of the non-conference schedule. Be sure to keep up with everything happening around Austin Peay State Univeristy at LetsGoPeay.com and the official Facebook page of APSU athletics, as well on Twitter and Instagram (@letsgopeay). For all things related to men's basketball, be sure to follow @AustinPeayMBB on Twitter.
OPPONENT (DATE)
2018-19 RECORD
POSTSEASON
APSU VS. OPPONENT ALL-TIME
LAST MEETING (RESULT)
Oakland City (Nov. 5)
24-6
Christian College NIT (Champions)
9-0
Nov. 6, 2018 (W, 114-53)
Western Kentucky (Nov. 9)
20-14
CUSA Tournament
(Runner-Up)
14-41
Dec. 22, 2017 (L, 55-72)
Tulsa (Nov. 16)
18-14
AAC Tournament (First Round)
0-0
First meeting
Vanderbilt (Nov. 20)
9-23
SEC Tournament (quarterfinals)
2-14
Nov. 10, 2017 (L, 54-73)
Southeastern Louisiana (Nov. 23)
17-16
Soutland Tournament (semifinals)
0-0
First meeting
South Carolina State
(Nov. 25)
8-26
MEAC Tournament (Quarterfinals)
0-0
First meeting
Arkansas (Dec. 3)
18-16
NIT (Second Round)
0-5
Dec. 28, 2018 (L, 65-76)
North Florida (Dec. 7)
16-17
ASUN Tournament (Semifinals)
1-1
Dec. 16, 2015 (L, 70-80)
West Virginia (Dec. 12)
15-21
CBI (Quarterfinals)
0-0
First Meeting
McKendree (Dec. 17)
9-18
None
1-0
Jan. 7, 1942 (W, 63-38)
Duquesne (Dec. 21)
19-13
A10 Tournament (Second Round)
0-0
First meeting
Alabama State (Dec. 22)
12-19
SWAC Tournament (Semifinals)
0-0
First meeting
Georgia (Dec. 30)
11-21
SEC Tournament (First Round)
0-0
First meeting