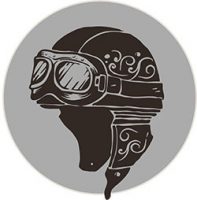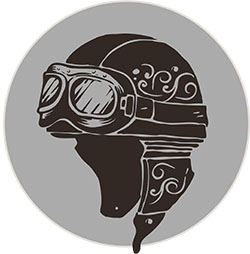 Clarksville, TN – It was Monday and we started towards Sturgis, where we would check into the Iron Horse Inn later that afternoon. After our ride through the Badlands, our next stop would be Wall, South Dakota. The home to the famous Wall Drug Store.
Leading up to my trip, all I heard from other bikers was, "you gotta go see Wall Drug." "Be sure to visit Wall Drug" I was told. So, that's what was next on our schedule. After all, we had seen signs to the place for the last 400 miles or so.
"Free ice water" and "5 cent coffee" is what brought me in.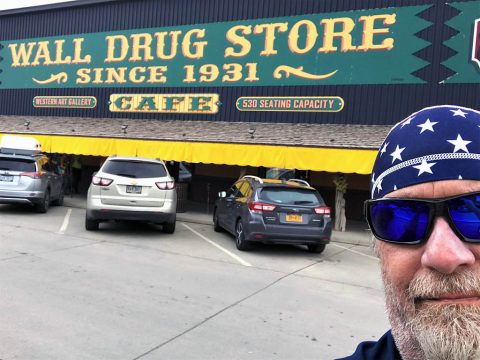 As we left the Badlands, we could see storms developing in our direction. We put a little extra "pep" in our step, hopefully getting there before the skies opened up. As it turned out, just a slight sprinkle during lunch was all there was.
I must tell you, that in this part of the country, storms pop up in a moments notice. But they also disappear in a moment's notice as well. We were fortunate when we arrived in Wall.
Pulling into town, you could tell it was time for the Sturgis Rally. There were motorcycles EVERYWHERE! The main street was littered with them. The license tags touched almost every state in the union. But it wasn't just bikers. There were tourists in their cars, campers and RV's. Wall Drug Store is truly one of the most visited tourist attractions in the country.
We managed to find a spot to park on the main drag, and since we could have literally eaten a horse, we scrambled inside to grab some grub.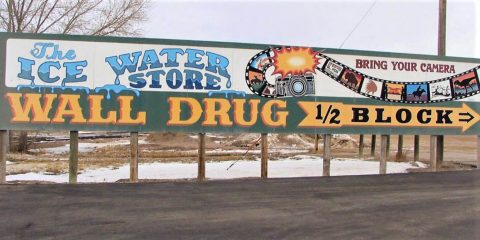 This town of 800 year round residents thrives on the tourism business that Wall Drug attracts. Stores line the streets, including a Harley Davidson satellite store. The actual drug store has great personality and loads of shopping options. We ate in the restaurant, (which I though was highly overpriced), then we went to the Harley store before leaving.
I sat outside with some bikers from North Carolina, and Florida and just chatted up about the Sturgis experience we were about to venture into. I was the only one who had never been to it, so I was getting all sorts of advice about what to do and what NOT to do.
What's remarkable about this iconic tourist attraction is the back story of how it was founded and by who. Read Ted Hustead's story here.
The popular roadside stop draws more visitors than the nearby Mount Rushmore, or Rapid City. When the Air Force operated the Minuteman missile silos just east of town, Wall Drug offered free coffee and donuts to the service personnel as they traveled to and from Ellsworth Air Force Base.
They still honor the servicemen by providing free coffee and donuts to this day.
I was still trying to process this whole experience of being in this part of the country when we arrived in Wall. We had just left the Badlands and my mind was still churning about that, and we would arrive in Sturgis this afternoon, so I was on adrenaline overload.
We didn't stay but a couple of hours here, but being a people watcher, I soaked it all in and met new friends as I was passing out cards about my blog.
"I'm in South Dakota!" I kept telling myself. "You're actually doing this trip" I kept convincing myself. It was just too much for me and I had to get back on the bike.
Next stop, Rapid City, and Black Hills Harley-Davidson, then Sturgis.
I wouldn't be prepared for what I would see.