Chattanooga, TN – Austin Peay State University (APSU) women's soccer team got an early lead with a ninth-minute goal from Katie Kenward, but the Govs were unable to hang on for the win as the double overtime season opener against Chattanooga ended in a 1-1 draw.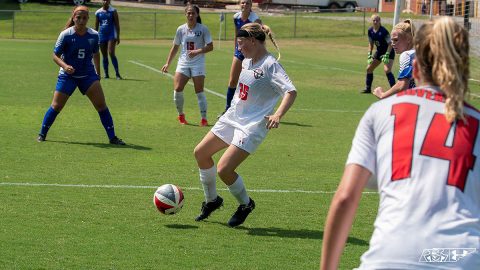 In the ninth minute, an Ashley Whittaker cross was deflected by the Chattanooga goalkeeper.
Junior Katie Kenward found the loose ball and the back of the net for the Govs first goal of the regular season.
Chattanooga was able to tie the game in the 87th minute, but that was all the scoring for the night as the season opener ended in a 1-1 draw after two overtime periods.
The Governors took an early lead when Kenward put one past the Chattanooga keeper off an assist from Whittaker. Controlling the tempo for most of the night, the Govs fired six more shots and two more shots on goal than the Mocs in regulation.
After taking an early lead, a solid effort from the Govs' defense kept Chattanooga off the board until the 87th minute, when the Mocs were able to tie the game and send it to overtime.
In the first overtime, both teams fired a shot in the 97th minute but neither team was able to score in a hard-fought 15 minutes. In the second overtime, senior keeper Mary Parker Powell made two saves to keep the game tied at one in tonight's marathon contest.
The Govs continued to be aggressive on the offensive attack, getting off ten shots, half of which were on goal, in tonight's 2OT match. Junior Claire Larose and freshman Anna McPhie led the Govs with two attempts on goal each.
Kolarova Thoughts
On the first half
"We started well, we came out pressing and working, knowing that they'd attempt to possess and play out of the back. We scored fairly early on a good counterattack so that boosted our confidence too."
On the second half
"In the second half we focused on winning individual battles and I thought Gybson Roth in the center of the midfield did that particular well the entire game tonight."
Final thoughts
"Mary Parker Powell had an excellent game in goal with a couple of top class saves. Our back line looked solid and our offense created much more tonight than in the preseason."
Next Up For APSU Soccer
The Governors will be back in action 5:00pm, Sunday, at Middle Tennessee. The Blue Raiders come into the game 1-0 after defeating Evansville (5-1) to open their season. The first chance to catch the Govs at Morgan Brothers Soccer Field is at 7:00pm next Friday when they take on Mercer.
For news, scores, and updates be sure to follow along on Twitter (@AustinPeaySOCR) and at LetsGoPeay.com