Clarksville, TN – On Saturday, March 14th, 2020 at 6:00pm, Austin Peay State University (APSU) will host the 36th Annual Candlelight Ball at the Omni Nashville Hotel, and in anticipation of this event, the University has announced the three winners of the 2020 Candlelight Ball Awards.
The awards honor those who have significantly contributed to Austin Peay State University through sustained service, made a generous contribution to the University or brought recognition to APSU through their success.
The honorees exemplify excellence and integrity and their accomplishments inspire others.
2020 Wendell H. Gilbert Award
The recipient of the 2020 Wendell H. Gilbert Award is William S. "Sammy" Stuard, Jr. serves as president, CEO, and chair of the board of F&M Bank, headquartered in Clarksville. Under his leadership, F&M has grown from one of the state's smallest banks to ranking among the largest state chartered banks in Tennessee, with more than $1.2 billion in assets.
During Stuard's more than 40-year banking career, he has received local, state, regional and national recognition, including a 2007 Community Banker of the Year Award presented by American Banker Magazine. He is an instrumental community leader, serving in various elected, appointed and volunteer positions.
He has served as chair of the Tennessee Bankers Association, was elected a Montgomery County Commissioner and served as chair of the Clarksville-Area Chamber of Commerce, the Industrial Development Board, the Clarksville Downtown District Partnership. He also was a past director of Two Rivers Company (an organization dedicated to downtown development and growth).
He currently serves on the Clarksville-Montgomery County Airport Authority and the APSU Foundation Investment Committee.
2020 Spirit Award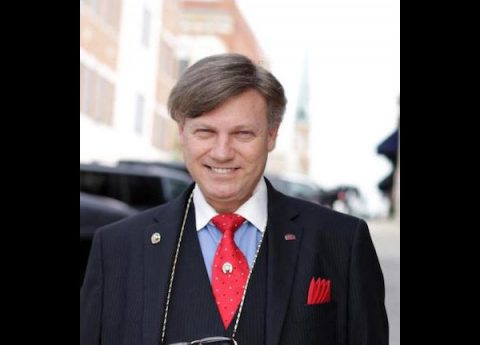 The recipients of the 2020 Spirit Award are Kevin and Rhonda Kennedy.
Kevin Chambliss Kennedy graduated with honors from Austin Peay State University in 1978, and he went on to receive a Master of Art degree in 1979. He taught American History courses at the University at the age of 22, and he graduated from the Nashville School of Law in 1983.
In 1989, he was admitted to practice before the United States Supreme Court. He started a residential rental business, later expanding into additional farms and commercial buildings. He also continued the family tradition of running the Kennedy Walking Horse Farm, which has been in his family since 1900.
Kevin currently co-hosts the Treva & Kevin Show and has produced the God and Country Patriotic Broadcast for more than 30 years. He has received numerous awards such as the City of Clarksville Citizen of the Year, Montgomery County Citizen of the Year and Volunteer of the Year.
Kevin also has organized some of the largest military support rallies in Clarksville in the past 30 years. To date, he has published six books.
Rhonda Jean Kennedy graduated from Northwest High School with honors in 1978. She graduated in 1983 with a Bachelor of Science degree in education and earned her Master of Arts degree in 1985, both from Austin Peay State University.
In 1983, she became a special education teacher with the Clarksville-Montgomery County School System. She served at various schools until she was named assistant principal at St. Bethlehem Elementary School. In 1999, Rhonda became principal of Hazelwood Elementary School. In 2006, she opened Barkers Mill Elementary School, where she continues to serve as principal.
The Clarksville Jaycees named Rhonda an Outstanding Young Teacher and The Korean American Association also recognized her for her contributions to her students. In 2005, she received the Principal of the Year Award from the State of Tennessee. Rhonda received the Outstanding Alumni Award from APSU and was named the Tennessee Education Association Administrator of the Year for Middle Tennessee in 2006.
She raised three children, Dr. Kevin Kennedy, Jr., Dr. Kenneth Laurence Kennedy and Katelyn Kennedy Lincoln, who are all Austin Peay State University graduates.
Over the years, proceeds from the Candlelight Ball have supported the restoration and renovation of the Pace Alumni Center at Emerald Hill and provided financial support for the APSU Center for Teaching and Learning. The event has also funded the establishment of a scholarship endowment that continues to benefit deserving recipients.
To reserve your tickets or for questions, contact the APSU Alumni Office at 931.221.7979. For Presenting Sponsor or Table Sponsor Information, email Nikki Peterson at petersonn@apsu.edu or call 931.221.7291.