Clarksville, TN – On September 7th, Austin Peay State University (APSU), the City of Clarksville and Google will team up at Clarksville's annual Riverfest Celebration to host a preview of the InnovaTN Games, a hands-on engineering competition designed to get young people excited about STEM (science, technology, engineering and math).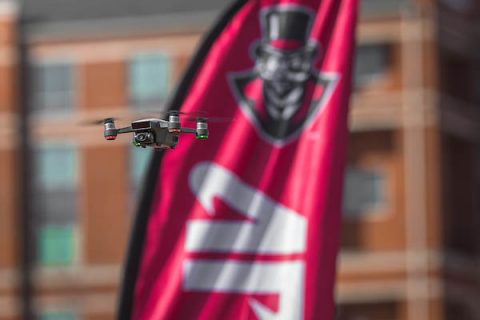 Google experts and Austin Peay GIS Center staff will lead free tech demos and drone assembly workshops beginning at 1:00pm.
Interested elementary to college students should register in advance at www.innovatn.org, then look for a clearly marked Google/APSU tent at the riverwalk to attend the hands-on events.
Participants will walk away with the drone they built – which they can use to practice for the competitions featured at the InnovaTN Games, debuting in April 2020. Hosted on APSU's campus, the InnovaTN Games will include, among other attractions, racing drones through obstacle courses.
"We're excited to partner with Google on next spring's InnovaTN Games, which builds on our goal of providing high-level STEM outreach to our community," Dr. Karen Meisch, interim dean of APSU's College of STEM, said.
After the Riverfest event, APSU and Google will turn their focus toward preparing the local drone teams for the April 2020 competition.
APSU plans to host a workshop this November to train local science teachers as drone team coaches. Those coaches will receive more advanced drone kits for their students to build and practice flying in preparation for the April event. Other drone-building workshops will follow early next year, ahead of the games. Information on those workshops will be available later this fall.
"Google fully recognizes that the future of innovation depends on a fresh generation of young people embracing and developing STEM skills," Enoch Moeller, Google's Clarksville Data Center Site Manager, said. "We're excited to join with our partners at APSU to advance the tremendous young talent we see all around us – and to put together a tremendously fun community event while we're at it."
Plans for Google's InnovaTN Games include three levels of competition and are open to schoolchildren (fourth grade and later) and adults. The easiest level will focus on building drones for sprints while the next level will feature designing drones to pick up and move objects, as if they were flying into an emergency to help with rescue operations.
The third and most advanced level of the InnovaTN Games will include a drone quidditch competition, where teams of drones try to score points by flying through designated rings.
The InnovaTN Games are scheduled for April 18th, 2020, at the Dunn Center on the Austin Peay State University campus.