Hattiesburg, MS – Weather conspired to bring a halt to the first day of the 2019 Sam Hall Intercollegiate early in the second round, with the Austin Peay State University (APSU) men's golf team already poised for a second-round climb.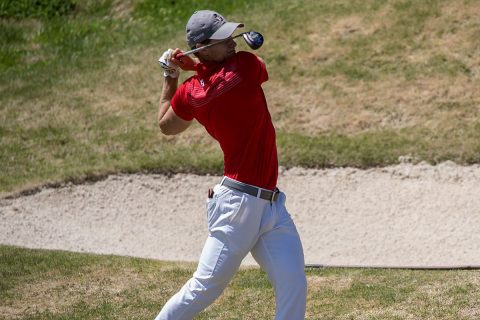 Officially, the Govs recorded an opening-round 288—placing them 10th, five shots outside the top-five and 15 back of the lead.
But of the handful of holes Austin Peay State University was able to complete in the second round, four yielded birdies—two each from Michael Busse and Austin Lancaster—to shave two shots off the deficit and move APSU to an unofficial seventh before weather interfered.
Busse was one-under on the round and two-under for the tournament before the sirens blared; he'll be tied for 14th when action resumes Tuesday. Freshman Tate Dickerson sank five birdies and needed every one to post an even-par opening round; he's one-over, tied for 33rd, heading into Tuesday.
Lancaster, Alex Vegh and Chase Korte are each two shots behind Dickerson with plus-three showings. When he picks up the sticks again, Korte will be on a run of nine pars over his last 11 holes dating back to the end of round one. Aside from trouble on the par-4 No. 14, Vegh has played the back-nine at two-under for the tournament.
Meanwhile, freshman Morgan Robinson (74-68—142) leads a trio of individuals at the Murray State Invitational, sitting tied for 19th and one shot ahead of Micah Knisley (73-70—143), with Jay Fox (78-77—155) seeing his first action in over a year following his redshirt season.
The plan at press time is to push through and finish all 54 holes at the Sam Hall Intercollegiate, which means Tuesday will be a battle for all involved. Further weather delays will likely force a reduction to 36 holes, but any developments will be updated via Austin Peay State University's official men's golf twitter account (@AustinPeayMGO).