Written by Riley Suits
APSU Softball

Clarksville, TN – My name is Riley Suits and I am a freshman catcher from Cleveland, Tennessee. My experience here at Austin Peay State University (APSU) has been nothing but amazing moments.
Move in day, August 22nd, 2019 I was immediately greeted with open arms by my new family. My coaches and teammates became part of the biggest move of my life thus far.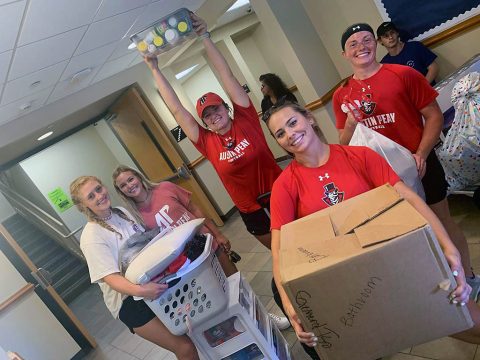 Because of the transition, I was anticipating the first week to be extremely difficult. The idea of handling classes while getting in the routine of softball had me stressed.
One of my new teammates took time out of her day to walk each of the freshmen to our classes to make sure we knew where to go. I say this speaking for everyone… we really needed that!
As softball practice and workouts began, we never did anything alone. All of the drills, lifting, anything we did, we did it as a team. I could hear my family cheering me on.
We start team practice in the next coming weeks, and I couldn't be prouder to say I am excited to be a part of such an amazing program.
About APSU Softball Dugout Dish
Fresh off back-to-back 30-plus win seasons for the first time in program history, the Austin Peay State University (APSU) softball team heads into the 2020 season with high expectations and a work ethic to match.
This is 'Dugout Dish' blog where each student-athlete on the team will take an opportunity to write a post highlighting the goings on of the squad, beginning with fall training and continuing all the way through the 2020 season.