Clarksville, TN – In an effort to keep pace with the changes in the way law enforcement does business, the Clarksville Police Department has created a Community Relations Unit (CRU).
The face of law enforcement is evolving and the necessity for involvement, visibility and transparency are more important than ever before. The CRU's intent is to be involved in activities within the community to promote a positive, relatable image to the citizens we serve.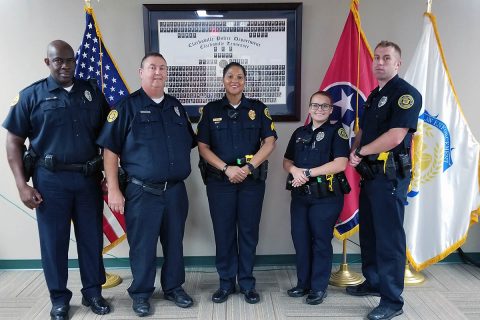 The Community Relations Unit's (CRU) mission is to help build and strengthen positive relationships between citizens of the Clarksville community and the Clarksville Police Department through education, intervention, and policing initiatives.
As part of CPD's commitment to improve the quality of life, the CRU works with the community to identify and analyze crime hazards in our community and come up with strategies to help minimize them.
The unit also offers the citizens of Clarksville with a variety of services, including safety presentations and community outreach initiatives.
The officers selected to the community relations unit are specially trained and devoted to the citizens. The CRU hit the ground running and initiated or promoted community interactions through various activities such a Coffee with a Cop, Hop with a Cop, Teen and Adult Citizens Police Academy, and National Night Out just to name a few.
A program which falls under the auspices of the CRU is the Neighborhood Watch Program. Neighborhood Watch programs are a way to help make a neighborhood safer by residents working together, in conjunction with local law enforcement, to reduce crime and improve quality of life.
It teaches citizens how to help themselves by identifying and reporting suspicious activity in their neighborhoods. Neighborhood Watch groups typically focus on observation and awareness as a means of preventing crime and utilizing strategies that range from simply promoting social interaction to watching out for each other.
Some of the other programs which fall under the CRU are Crime Prevention and Crime Prevention through Environmental Design; officers can come to a business or residence and provide security improvement recommendations. Since there have been tremendous strides in technology, the CRU would like to work with the community to embrace and share technology as a crime fighting tool.
This Community Relations Unit is part of the Police Department's overall Community Oriented Policing philosophy adopted by all employees. Community Oriented Policing includes both traditional and nontraditional strategies. Prevention, problem solving and most importantly communication between citizens and officers are the "keys" to reducing crime and fear.
We consider ourselves fortunate in Clarksville. The bond between the citizens and the Clarksville Police Department is strong and united. The intention of the community relation unit is to build that bond even stronger and to further expand and improve our outreach to the community.
For assistance or information about our community relations unit, please contact Sgt Jones, 931.648.0656, ext. 5276.