Edwardsville, IL – Austin Peay State University (APSU) volleyball junior Chloe Stitt came off the bench to record 14 kills in the final two sets, leading team to a Ohio Valley Conference-opening four-set win (25-19, 20-25, 25-23, 25-18) against SIU Edwardsville, Friday night at the Vadalabene Center.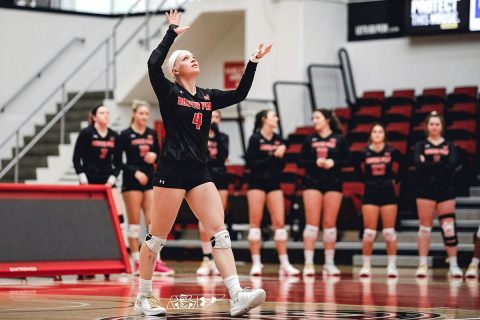 After Austin Peay State University (3-11, 1-0 OVC) saw a late second set rally turned aside, leveling the match, they turned to Stitt early in the third.
She responded with an impressive performance in the third frame, recording 10 kills. Four of Stitt's kills came in the Govs 7-1 set-clinching run that gave them a 2-1 match lead.
Stitt kept Austin Peay State University's momentum going early in the fourth, knocking down a pair of kills in an opening 6-2 run. A later 5-0 APSU Govs run included a Caroline Waite service ace and a Karli Graham kill as the lead expanded to eight points, 22-14. SIUE (5-8, 0-1) would fend off three match points late, but a service error ended the match.
Stitt's 14-kill outing saw her post a .571 attack percentage. Junior Brooke Moore and senior Jenna Panning each had 10 kills, Moore adding 17 digs for a double-double performance. Junior Caroline Waite nearly had a triple double, finishing with seven kills, 39 assists and 12 digs.
SIUE's Rachel McDonald led all hitters with 16 kills while posting a .342 attack percentage. Kiana Fields also had 10 kills and a .364 attack percentage.
Austin Peay State University continues its Illinois swing with a noon, Saturday contest at Eastern Illinois that can be seen on ESPN+.
APSU Govs Notably
Stitt's Hot Start
Coming off the bench, Stitt got out to a near-perfect start. She recorded 12 kills on her first 13 swings, an incredible .923 attack percentage. Stitt would commit a pair of errors late, but still mustered an impressive .571 attack percentage in two sets – the best attack percentage by a Govs hitter this season.
Panning's Hot Start
Panning's own quick start sparked the Govs to an opening-set victory. She scored six kills on eight swings in the first set, forcing SIUE to account for her after the first. The Cougars were able to keep her in check in the second and third but she found her swing again in the fourth, notching three kills on six swings.
Defense Steps Up
After SIUE roared to a .391 attack percentage to win the second set, the APSU Govs defense needed to step up. And it did, posting 23 digs in the third set and 22 in the fourth. Senior libero Ginny Gerig Busse had 10 digs in the decisive fourth set and finished the match with 27 digs – one shy of her season high.