Clarksville, TN – Austin Peay State University (APSU) men's tennis concluded its first weekend of action, knocking off North Alabama and Cumberland in singles duels Saturday morning on the final day of the APSU Hidden Duel at the Governors Tennis Center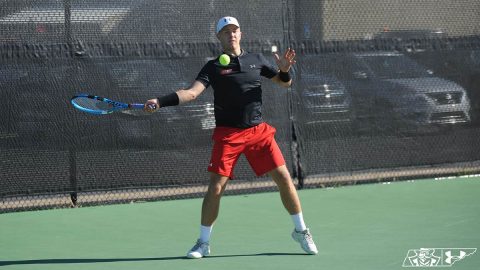 After splitting their doubles matches on day one, the Governors took care of business, winning eight of the ten individual matches they played on the final day of the APSU Hidden Duel.
Anton Damberg, Jacob Lorino, and Julius Gold went undefeated on the day in the two, three, and four positions for the Govs.
The Governors got off to a hot start Saturday morning, beating North Alabama in the one, two, three, and four matchups. Christian Edison, Damberg, Lorino, and Gold bested the top four North Alabama players, winning the duel handily. Freshman Thiago Nogueira played as the Governors number five, dropping his match, 3-6 2-6.
It was a similar result in the afternoon duel against Cumberland. Edison, still playing as the one, dropped the first match, 5-7 5-7. But the trio of Damberg, Lorino, and Gold all took care of business, to secure the team win for the Governors. Nogueira picked up the first win of his career to conclude the Governors 4-1 team win over Cumberland.
Thoughts from APSU Coach Ross Brown
"It was a good day. I'm really pleased with our effort today. Freshmen Julius [Gold] and Thiago [Nogueira] got their first wins in singles play. Jacob Lorino played the best tennis I have seen from him. Anton [Damberg] played better tennis and out worked his opponent. Christian [Edison] played as the one for the first time and had a strong first match. Overall it's a good place to start the year.
Next Up For APSU Men's Tennis

The Governors continue their fall season next weekend at the Louisville Fall Invitational. Then they will take a week off before competing at the Ohio Valley Regionals in Nashville, October 24th-29th. Finally, the Govs will wrap up their fall campaign October 31st-November 3rd at the UTC – Steve Baras Fall Invitational in Chattanooga Tennessee.
APSU Govs Day One Match Results
Austin Peay def. North Alabama 4-1
Christian Edison (APSU) def. Maguiros (UNA) 6-3 6-4
Anton Damberg (APSU) def. Pfleiderer (UNA) 6-1 0-6 10-5
Jacob Lorino (APSU) def. Girao (UNA) 6-2 7-5
Julius Gold (APSU) def. Hansen 6-1 7-6(9) 10-3
Markos (UNA) def. Thiago Nogueira (APSU) 3-6 2-6
Austin Peay def. Cumberland 4-1
Bagnera (CU) def. Christian Edison (APSU) 5-7 5-7
Anton Damberg (APSU) def. Bochnia (CU) 6-3 6-4
Jacob Lorino (APSU) def. Alonso (CU) 6-0 6-1
Julius Gold (APSU) def. Sarpa (CU) 6-0 6-0
Thiago Nogueira (APSU) def. Ramirez (CU) 6-3 6-1