Clarksville, TN – Clarksville Fire Rescue firefighters and staff members concluded a drive to sell hundreds of black-and-pink T-shirts that allowed them to donate $8,000 to the YMCA's After Breast Cancer (ABC) Program.
Clarksville Fire Chief Freddie Montgomery and CFR staff members Susan Harris and Angela Moody presented the check to the Clarksville Area YMCA Thursday during the annual Tickle Me Pink event, which is a fundraiser for the ABC Program.
Chief Montgomery and a large group of firefighters were on hand to distribute roses to cancer survivors and women affected by cancer who were recognized during the event. Clarksville First Lady Cynthia Pitts offered the invocation to start the day.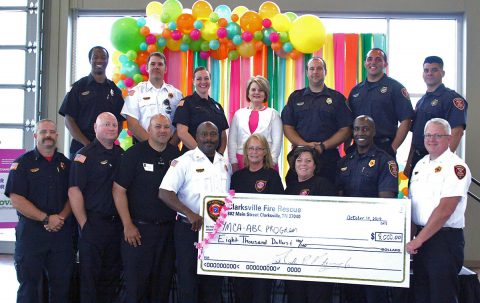 "The women and men of Clarksville Fire Rescue are honored to support a cause that impacts so many in our community," Chief Montgomery said. "With the help of our friends, family and citizens, we look forward to carrying on this proud tradition and making it bigger and better each year."
This year's shirt displays the Clarksville Fire Rescue logo, firefighting tools, a rose and the message "Supporting A Cause 2019."
Harris and Moody, both administrative staff members at Fire Rescue, organize the sale of the shirts each year.
The 9th Annual Tickle Me Pink event was attended by several hundred local supporters Thursday, and included a luncheon and inspirational speeches.
After Breast Cancer is a program for survivors by survivors that provides education and healing for body, mind and spirit after a breast cancer diagnosis. Participants learn about healthy eating and regular exercise, and form a healing community in small group discussions led by a trained facilitator.
The Clarksville Area YMCA hosts the ABC Program, which is free, and funded by grants, private donations and corporate and community sponsors. Contact the YMCA Wellness Director at 931.647.2376 to sign up or get information about the local After Breast Cancer Program.