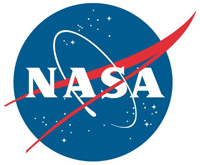 Washington, D.C. – In the photo below, Amy Ross, a spacesuit engineer at NASA's Johnson Space Center, left, and NASA Administrator Jim Bridenstine, second from left, watch as Kristine Davis, a spacesuit engineer at NASA's Johnson Space Center, wearing a ground prototype of NASA's new Exploration Extravehicular Mobility Unit (xEMU), and Dustin Gohmert, Orion Crew Survival Systems Project Manager at NASA's Johnson Space Center, wearing the Orion Crew Survival System suit, right, wave after being introduced by the administrator, Tuesday, October 15th, 2019 at NASA Headquarters in Washington.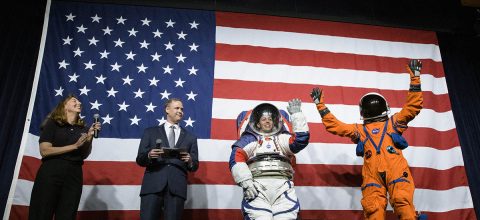 The xEMU suit improves on the suits previously worn on the Moon during the Apollo era and those currently in use for spacewalks outside the International Space Station and will be worn by first woman and next man as they explore the Moon as part of the agency's Artemis program.
The Orion suit is designed for a custom fit and incorporates safety technology and mobility features that will help protect astronauts on launch day, in emergency situations, high-risk parts of missions near the Moon, and during the high-speed return to Earth.
About the Artemis Mission
NASA is committed to landing American astronauts, including the first woman and the next man, on the Moon by 2024. Through the agency's Artemis lunar exploration program, we will use innovative new technologies and systems to explore more of the Moon than ever before.
We will collaborate with our commercial and international partners to establish sustainable missions by 2028. And then we will use what we learn on and around the Moon to take the next giant leap – sending astronauts to Mars.