Clarksville, TN – The Austin Peay State University (APSU) softball Team Black used a three-run first inning Monday afternoon, at Cathi Maynard Park-Cheryl Holt Field, to power its way to a 4-2 victory over Team Red in Game 1 of the Governors annual Red & Black Fall Softball World Series.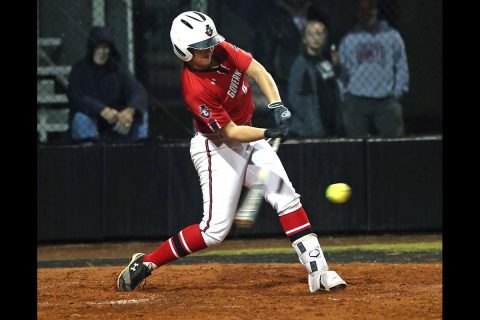 Trailing 1-0 heading into its first at bat of the day, Team Black tied things up quickly with Bailey Shorter opening the inning up with a single and scoring two batters later on a double to left-center field by Victoria Eccleston.
Team Black would then take advantage to two Team Red errors to plate two more runs in the inning to take the lead, 3-1.
That would be all the runs that Team Black starter Harley Mullins would need, as she held Team Red to a pair of runs on seven hits, while walking one and striking out two.
Team Black would extend its lead out to 4-1 in the bottom of the fifth inning on an RBI single by Brett Jackson to drive in Brooke Pfefferle, who had opened the inning with a single.
Team Red would score the game's final run in the top of the sixth inning on a home run off the scoreboard in left-center field, by Katelyn Smith, cutting the deficit to 4-2, but couldn't get any closer.
Smith would also drive in Team Red's other run of the game in the top of the first inning on a single that scored Shelby Harpe.
Harpe would take the loss for Team Red despite giving up just five hits and two walks, while striking out eight.
Game 2 of the Govs Red & Black World Series will begin at 3:45pm, Tuesday at Cathi Maynard Park-Cheryl Holt Field.
Inside the Boxscore
Victoria Eccleston (Black Team) and Katelyn Smith (Red Team) would record two hits each to lead their squads.
Both teams turned a double play.
Team Red outhit Team Black overall, 7-5.
Bailey Shorter (Team Black) had the game's lone stolen base.
Along with Smith's two hits, Emily Harkleroad, Kelsey Gray, Drew Dudley, Ali King and Emily Moore had hits for Team Red.