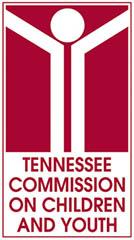 Nashville, TN – At 6th, Montgomery County is among the top Tennessee counties in child well-being according to a report produced by the Tennessee Commission on Children and Youth, the Annie E. Casey Foundation Tennessee KIDS COUNT® partner.
Some of the county's strongest rankings include the lowest rate of children who lack health insurance in the state and comparatively high percentages of 3rd to 8th grade students who demonstrate proficiency on TNReady reading and math tests.
The county's biggest opportunities for improvement are high housing costs and one of the higher percentages of student suspensions from school.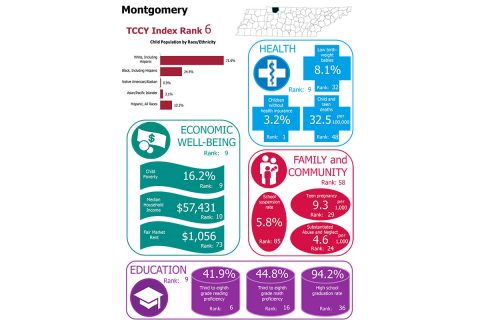 Additional strengths include high median household income and one of the lower rates of child poverty in the state. Though it is still a higher number than one would hope, Montgomery County's 16.2 percent child poverty rate is in the best 10 counties on this measure.
An additional challenge is a child and teen death rate that is close to the average for the state.
Policy/Practice/Program Options to Improve Outcomes.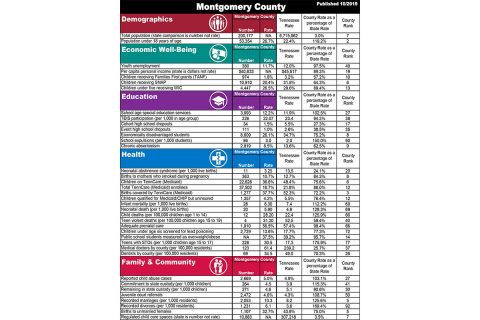 Many of these policies have multiple models for delivery, including public-private partnership and non-profit leadership.
Pro-active housing policy that helps ensure affordable housing is available for people to live where they work can improve negative outcomes related to high housing costs.
Suspension rates can be reduced through clear definitions of what constitutes suspendable behavior and a focus on restorative discipline practices that aim to improve behavior while keeping children in school.
Child and teen deaths can be reduced with consistent enforcement of safety measures like proper car seat and seat belt use, bicycle helmet use and life preserver use around water. The fastest-growing cause of child and teen deaths in recent years has been homicide and suicide, often involving a firearm. Families who own firearms can reduce the risk to children and teens by following safe storage practices.
As the Annie E. Casey Foundation's KIDS COUNT partner in Tennessee, TCCY supports data-driven advocacy for policies and programs that improve outcomes for Tennessee children and families. The report highlights several indicators that are available on the KIDS COUNT data center and encourages readers to explore the wealth of information available there on Tennessee children and families and how we compare to the nation.
KIDS COUNT: State of the Child in Tennessee is available online at https://www.tn.gov/content/tn/tccy/kc/tccy-kcsoc19.html or from a TCCY regional coordinator. County Profiles are available at https://www.tn.gov/content/tn/tccy/kc/tccy-kcsoc/county-profiles.html.