Clarksville, TN – The Austin Peay State University (APSU) Department of Music will host its 35th annual Percussion Ensemble Halloween Concert at 6:00pm and 8:00pm Tuesday, October 29th, 2019 at the Mabry Concert Hall.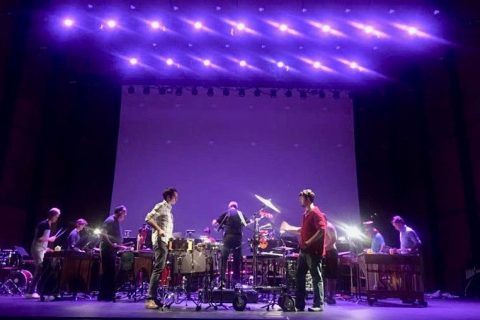 "This one is all about the villains," David Steinquest, APSU professor of music, said. "Pretty much everything has to do with bad guys."
The Tuesday night concert will open with music from the "Halloween" movies, and then move into works such as Bach's "Goldberg Variation No. 25," which was used in the "Silence of the Lambs," and "The Imperial March" from "Star Wars." Later, another famed villain will make his way to the stage, with APSU music professor Jeffrey Williams singing the lead role from Andrew Lloyd Webber's "The Phantom of the Opera."
The evening's eclectic program will also feature Igor Stravinsky's "Triumphal March of the Devil," German composer Engelbert Humperdinck's "Evening Prayer" from his opera "Hansel and Gretel," and the theme song from the popular 1966 television show, "Mission Impossible."
Admission to the Halloween concert is two cans of food, which will be donated to Loaves and Fishes, or $5.00. The event usually sells out. For tickets, drop off the cans of food at the music office, Room 139 of the Music/Mass Communication Building, or purchase them online at APSU Marketplace.
For information, contact the music department office at 931.221.7818. Click here for more.
Black Hawks to land on campus twice this week
On Wednesday, October 30th, four UH-60 Black Hawk helicopters will land on the Austin Peay State University campus for a special, joint training exercise between the University's Governors Guard ROTC program and the Tennessee National Guard.
The helicopters are scheduled to land on the Dunn Center lawn around 8:00am, and APSU cadets will spend the next few hours conducting loading and off-loading training.
At 8:00am on Friday, November 1st, the four Black Hawk helicopters will return to campus the Dunn lawn to transport APSU cadets to their Fall 2019 field exercises.
For more information, click here.
Fall Dance Concert will inspire you to dance
The Austin Peay State University Department of Theatre and Dance, along with artistic directors Eboné Amos and Margaret Rennerfeldt, will present the Fall Dance Concert Thursday, October 31st-Sunday, November 3rd, at the Trahern Theatre.
The show starts at 7:30pm Thursday-Saturday with matinee performances on Saturday and Sunday starting at 2:00pm.
APSU dance concerts are filled with talent and innovation that will inspire you to dance like no one's watching. This year's Fall Dance Concert will have two acts featuring the works of faculty members including Marcus Hayes, Kevin Bradley Loveland Jr., Amos and Rennerfeldt.
Tickets may be purchased online through the Theatre and Dance Box Office webpage, www.apsutheatredancetix.com at the following prices: general admission, $10.00; student/senior/military, $5.00. Tickets purchased at the door with cash will incur a $2.00 service fee.
For more information, call the Trahern Theatre Box Office at 931.221.7379 or email .
Typeface designer Nina Stössinger to speak at APSU
The APSU Department of Art + Design, with support from the APSU Center of Excellence for the Creative Arts, is pleased to welcome award-winning typeface designer Nina Stössinger to Austin Peay State University.
"Stössinger is a senior typeface designer at Frere-Jones Type in Brooklyn," said Michael Dickins, chair of the Visiting Artist Speaker Committee. "She also teaches type design at Yale School of Art.
"We are really excited for her visit as she will be conducting workshops with our graphic design students as well as a lecture on her creative practice and her career as an award-winning designer. The workshop is yet another opportunity for our students to get one-on-one experience with one of the country's top designers, all due to CECA and its continuous support," Dickins stated.
Stössinger's lecture, which is free and open to the public, will be at 6:00pm Monday, October 28th, in the Art + Design building's Room 120.
For more information, click here.
Govs men's basketball hosts second exhibition
The men's basketball team has its second exhibition game at 7:00pm Saturday, November 2nd, against Lees-McRae at the Winfield Dunn Center. The game will follow the volleyball team's hosting of SIU Edwardsville.
The women's team hosts Tennessee Wesleyan for an exhibition at 7:00pm Tuesday, October 29th, at the Dunn Center.
Visit www.letsgopeay.com for more information.
Volleyball team to host Eastern Illinois, SIUE
The volleyball team will host two matches this week, the first against Eastern Illinois at 6:00pm Friday, November 1st, and the second against SIU Edwardsville at 2:00pm Saturday, November 2nd. Both matches will be at the Winfield Dunn Center.
Visit www.letsgopeay.com for more information.
Why should you become a Gov? Find out at AP Day

Come experience a day in the life of a Gov at AP Day, a full campus preview day on Saturday, November 2nd, where prospective students can:
Tour campus.
Talk with Austin Peay students.
Meet with academic departments and student organizations.
Learn more about admissions, financial aid, housing and more.
Find out more (and register) here.
'Do it' exhibit continues

Austin Peay State University's 10-week run of the international "do it" exhibit continues at The New Gallery in the APSU Art + Design building on campus. The exhibit runs through December 6th.
"Do it" is a 26-year global phenomenon that is a compendium of 400 written instructions by artists interpreted anew every time they are enacted. The New Gallery will have 22 sets of instructions by artists such as Felix Gonzalez-Torres, Adrian Piper, Yoko Ono, Alison Knowles, Sol LeWitt, David Lynch and Joan Jonas.
For more about "do it," go to www.apsu.edu/news/september-2019-do-it.
Other Austin Peay happenings this week:
The Black Student Union presents "Racial and LGBTQ+ Intersectionality" at 6:30pm Monday, October 28th, at the Wilbur N. Daniel African American Cultural Center.
Family pumpkin painting from 2:00pm-6:00pm Tuesday, October 29th, in Morgan University Center Room 103BC. Click here for more.
Dia de Los Muertos sugar skull painting 11:00am-1:00pm Wednesday, October 30th, at Einstein Bros. Bagels. Click here for more.
#Adulting: How to Sew a Button at noon Thursday, October 31st, in the MUC lobby. Click here for more.
First Friday November at 11:00am Friday, November 1st, at the Morgan University Center Plaza. Click here for more.
For more campus events, click here.