Clarksville, TN – It was everything you would want in an exhibition contest, as Austin Peay State University (APSU) women's basketball rolled to a 71-point victory over Tennessee Wesleyan, behind a pair of big debuts from Tahanee Bennell and Shay-Lee Kirby, Tuesday, at the Dunn Center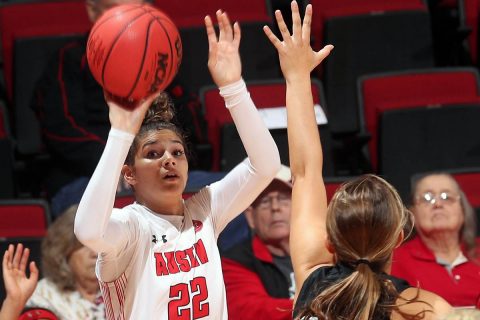 The Governors blew the Bulldogs off the starting line, jumping to a quick 10-0 lead, with Preseason All-OVC selection Arielle Gonzalez-Varner scoring five points and pulling down five boards before three minutes could run off the clock.
At the end of the first quarter, the Governors led 29-6, Gonzalez-Varner had nine points by herself.
In the second quarter, it was the Gabby Gregory show, as the redshirt-junior buried three triples in a two minute stretch. In the first half, the Governors shot 50% from the floor and 47% from three-point range; they also held Tennessee Wesleyan without a made three-pointer in the first half, and took a 55-19 lead into the locker room.
The Governors kept things rolling in the second half, as Bennell and Kirby began to fill up the stat sheet while the lead stretched. A Turners Beach, Australia, native, Bennell knocked down two triples and pulled down six boards in the second half alone. She ended her Austin Peay State University debut with a double-double, 14 points and 11 rebounds.
The freshman from Vienna, West Virginia, Kirby exploded for nine points in the second half, knocking down three three-pointers. Kirby would go onto lead the Governors in the scoring with 17 points, shooting 67% from the floor and 83% from downtown.
The Governors offensive outburst was due in large part to a stellar effort on the defensive end. Eight of the 13 APSU Govs to take the court tonight recorded a steal, with Brianah Ferby leading the way with four takeaways. The Governors also forced 25 Tennessee Wesleyan turnovers, which led to 36 points off turnovers.
To cap off a solid all-around effort, David Midlick's squad held Tennessee Wesleyan without a made field-goal in the fourth quarter – thanks in part to two blocked shots by Kelen Kenol in the quarter – as the Governors cruised to a 106-35 win.
The Difference
The newcomers. The Governors received a combined 53 points and 34 rebounds from players making their Austin Peay State University debut. D'Shara Booker made her debut, after redshirting a year ago; she scored 7 points and hauled in 11 boards.
Freshman Ella Sawyer got the start and posted eight points and five rebounds, while junior college transfer Alayjah Sherer supplied seven points off the bench. Kirby added seven rebounds to her team-high 17 points, and you've already heard about Bennell's double-double.
Opening Remarks
"There's definitely some things to work on. I thought our press was good early, I do think we had good energy coming out, and I do think we shared the basketball. We did a lot of good things against a good team that won 22 games in the NAIA last season"
On the defensive end
"We have got to get better at guarding one-on-one defense, they drove it and just missed some shots in the first half, and it got better in the second half, but we've still got to improve on that."
On the offensive end
"Offensively I thought we got some easy baskets in transition, there were some easier looks by pushing the ball down the floor. We got some easier looks on drive and kicks, and from throwing it into the post."
Moving forward
"We've got room to improve. We've got to get better in this next week, we are going to face the same kind of team next Tuesday. They [Kentucky Wesleyan] were an NCAA tournament team last year that has four of their starters back, and we are going to have to guard drives at a high level."
Final Thoughts
"We've got to get to where we are playing defense all the time. Tonight we were feeling good because we got a lead early and some shots were falling, it's getting to where we have that same grit, that same toughness so that your defense can ignite your offense on nights when shots aren't falling. When it's going well, you kind of have some energy, but how are we going to react when it's not going well on the offensive end. We try to replicate that in practice, we are just going to have to do it in the game."
Look Ahead
The Austin Peay State University women's basketball team will tip-off for real against Kentucky Wesleyan at 5:30pm, November 5th, in the Dunn Center. The men's team will play their season-opener against Oakland City immediately following the women's game that same night.