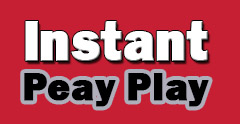 Clarksville, TN – Austin Peay State University (APSU) will be celebrating it's 88th homecoming this week, but more importantly its football team has a chance to take over first place in the Ohio Valley Conference standings, 3:00pm, Saturday, November 9th, 2019 at Fortera Stadium if it defeats current OVC leader UT Martin in what is arguably the biggest game the program has participated in over the past 40 years.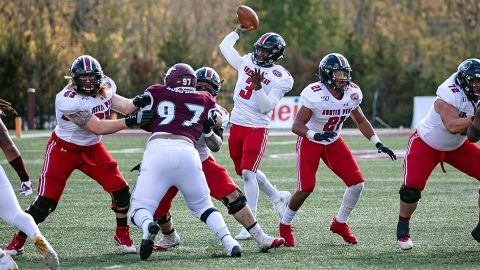 The national-ranked Governors, currently 25th in the Coaches Poll before this week's updated standings are announced, comes into the homecoming tilt with a 6-3 overall record after winning a thrilling 28-21 overtime victory at Eastern Kentucky this past Saturday, which also improved them to 4-1 in OVC play.
This puts the Govs a half a game out of first place in the league's standings behind UT Martin, who is also 6-3 overall this season, but currently 5-1 in OVC play after defeating Jacksonville State 22-17 at home this past Saturday.
A victory by Austin Peay State University versus the Skyhawks this week would not only vault the Governors into first place in the OVC standings and give them control of their own destiny for an OVC title — and the automatic NCAA Championship playoff berth that goes with it — over the final two weeks of the regular season if they follow up with wins at Murray State (4-6, 2-4 OVC) next week, while wrapping up with a win at home versus current winless Eastern Illinois (0-9, 0-5 OVC).
Southeast Missouri (6-3, 4-1 OVC) could tie the Govs record wise if they too win out versus Eastern Kentucky, Eastern Illinois and Murray State over it's final three Saturday's, but the Govs would get the OVC's bid to the NCAA championship due to it holding the tie-breaker over the Redhawks with their victory versus Southeast Missouri back on October 12th.
A loss by the APSU Govs would all but give UT Martin a clear shot at tying for the OVC regular-season title, with the Skyhawks only having one OVC contest left on its schedule, a November 16th home game versus Tennessee State (2-7, 1-4 OVC), but also opening the door for SEMO to earn the automatic NCAA post-season bid if they win out due to the Redhawks holding the tie-breaker over the Skyhawks, with their win versus UT Martin on October 26th.
A win versus UT Martin would also give the Governor a great chance to retain the Sgt. York Trophy for a third straight year, with Tennessee State needing to have to beat UT Martin and Tennessee Tech to close the season to wrestle the trophy away from the Governors.
So, for the first time since 1977 the Governors have a chance to control its own destiny for an OVC championship, as well as earning its first-ever NCAA postseason playoff berth and keeping the Sgt. York Trophy all on homecoming. It can't be much of a bigger game than that for the APSU Govs and their fans this week.