Austin Peay (6-3 | 4-1 OVC) vs. UT Martin (6-3 | 4-1 OVC)
Saturday, November 9th, 2019 | 3:00pm CT
Clarksville, TN | Fortera Stadium

Clarksville, TN – In what is possibly the program's biggest football game since 1977, the Austin Peay State University (APSU) football team will host UT Martin in a 3:00pm, Saturday, November 9th, 2019, battle of Ohio Valley Conference teams atop the league with one loss each.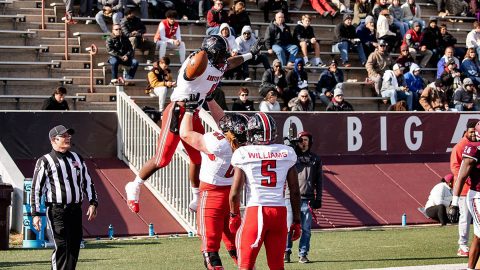 Entering the weekend ranked 24th in the American Football Coaches Association poll, a Govs win would put them in complete control of their own destiny with two weeks remaining to claim their first OVC championship since 1977.
For a second-straight week, Austin Peay State University will play in a contest that serves as a de factor elimination game in the OVC championship race. Austin Peay State University owns a win against Southeast Missouri, the other one-loss club in the OVC, and a win against UT Martin would hand the visitors their second OVC loss.
Meanwhile, UT Martin enters the game knowing a win against the Govs puts them a week away – and a win against Tennessee State – from clinching the title, with a win against Southeast Missouri already in hand.
And if that wasn't enough to entice fans to visit Fortera Stadium, it's Austin Peay State University's 88th Homecoming Week. Beginning at 10:00am, Saturday, fans can enjoy the Homecoming & Veterans Day Parade, which begins on College Street. Following the parade, Stache Street will be open for fans to enjoy inflatables and local food trucks before the 3:00pm kickoff between the Govs and Skyhawks.
Saturday's game will be broadcast via ESPN+, as will all home and Ohio Valley Conference road games with the exception of the November 16th game at Murray State, which will be on ESPN3. This is Austin Peay's penultimate road contest of the 2019 regular season, with only the trip to Murray, Kentucky, remaining.
About the UT Martin Skyhawks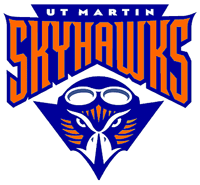 Offensively, UT Martin is a spitting image of the Govs: a talented passer (John Bachus vs. JaVaughn Craig) supplemented by a big run threat (Peyton Logan vs. Kentel Williams). Bachus is the OVC's No. 2 rated passer with 145.3 rating that trails only Craig (167.1). Logan is the league's No. 2 runner (94.7 ypg) ahead of Williams at No. 3 (75.5 ypg).
UT Martin does hold an edge against Austin Peay defensively in league play. The Skyhawks have held OVC foes to 16.8 points and 321.3 yards per game in six outings this season, first and second among league teams, respectively. All that thanks to a defensive unit that has recorded an impressive 23 sacks (3.8 per game). Senior linebacker Cecil Cherry (4.0 sacks) leads a group of six Skyhawks with at least 1.5 sacks in OVC play this season.
Last Time Against UT Martin
For the second time in three weeks, Austin Peay State University faced an opponent on a soggy gridiron, as rain steadily fell to the earth, and at times, it came down in sheets.
The Governors took the lead into halftime, but could not hold off a second-half rally from UT Martin in a 37-7 defeat, last season, at Graham Stadium.
APSU Notably
Austin Peay State University, ranked 13th nationally in total defense (317.8 ypg) and 32nd in total offense (430.0 ypg), is one of 10 programs (out of 124 FCS programs) in the nation ranked in the FCS's Top 35 in both core tenets.
Saturday's meeting pits the league's top two offenses against one another, with the OVC-leading Governors against the No. 2-ranked Skyhawks. In OVC play, the Govs lead the league in scoring (38.0 ppg) and yardage (435.4 ypg) while the Skyhawks are ranked second in both categories (32.0 ppg/405.7 ypg).
The Govs offensive line has done its job consistently this season, surrendering just six sacks in nine games. APSU's front line is ranked No. 4 among FCS teams in sacks allowed. That protection also has allowed the Govs to post the FCS' No. 37 ranked passing efficiency rating – a 141.15 rating that would eclipse the program record set in 1994 (139.07).
Kordell Jackson enters this week with six interceptions in nine games and is No. 3 among FCS defenders in picks per game (0.70). No other OVC defender has more than three interceptions this season.
DeAngelo Wilson, who caught three touchdown passes against North Carolina Central in Week 1, is No. 9 among FCS receivers (2nd in the OVC) with nine touchdown receptions in 2019. Only four APSU receivers have caught more touchdowns in a season.
The Govs own the FCS' No. 8-ranked rush defense entering Week 11. The Govs have allowed just five 100-yard rushing performances by a foe through nine games in 2019.
JaVaughn Craig assumed the full-time quarterback role in the midst of the Govs' Week 2 game against Central Arkansas. He has quickly become one of the FCS' top offensive threats, averaging 258.8 offensive yards per game – 35th among all FCS players.
Prior to Saturday, APSU has played just two games at home when nationally ranked—in 1979 against Western Kentucky and September 8th, 2018 against Presbyterian.
Austin Peay State University remains among the nation's Top 5 in sacks allowed, at a paltry 0.67 per game.
APSU Govs Online
Be sure to follow all the Austin Peay State University football action at LetsGoPeay.com and the official Facebook page of APSU Athletics. In addition, live play-by-play coverage can be found on Twitter (@GovsFB) and PeayStats.com. Live coverage from this weekend will be provided via streaming (ESPN+).