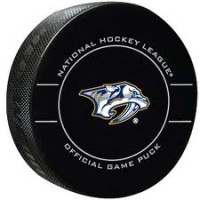 San Jose, CA – The Nashville Predators managed to squeeze a point out of tonight's loss to the San Jose Sharks, losing 2-1 in regulation. The game went to a shoot-out where Timo Meier, in his first shoot-out appearance, slipped one over the shoulder of Juuse Saros for the win.
Nashville entered tonight's game wondering how they would recover from the embarrassing loss to the Colorado Avalanche on Thursday night, 9-4, but hit the ice determined to play Predators hockey. This is the third of four road games for the Predators, as they wrap this road trip up in Vancouver on Tuesday night.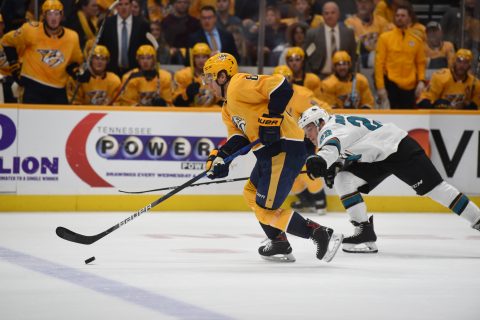 Filip Forsberg put the Predators on the board at 14:44 of the second period as he slipped past the Sharks defense and lifted a wrist shot past Martin Jones in goal for San Jose. Nashville had the 1-0 lead.
Both teams had their opportunities during this second period but both goaltenders put on an amazing display of defense throughout the night. Martin Jones for San Jose, and Juuse Saros for Nashville.
Into the third period, Tomas Hertl managed to bring his team even at 5:22 of the final frame when he took a rebound of his own shot and banked the puck into the back of the net. Game tied, 1-1.
San Jose has the number one power play defense in the NHL and the Predators were unable to score on their opportunities, so the game went to a shoot-out.
It took seven rounds of "one-on-one" to determine the winner tonight, and that's when Timo Meier closed the door on the Predators, giving the Sharks the extra point on tonight's contest.
The Vancouver Canucks await the Predators for a 9pm contest on Tuesday night.
Nashville returns home to host the Chicago Blackhawks on Saturday night. Puck drop is at 7:00pm.