Clarksville, TN – Looking to bulk up its offensive capabilities, the Austin Peay State University (APSU) volleyball team added three all-state selections to its 2020 roster. Head coach Taylor Mott and her staff signed Kaylah Jackson, of Douglasville, Georgia; Maggie Keenan, of Franklin, Tennessee; Taylor McInerney, of Annville, Pennsylvania; and Morgan Rutledge, of Louisville, Kentucky, in the early signing period.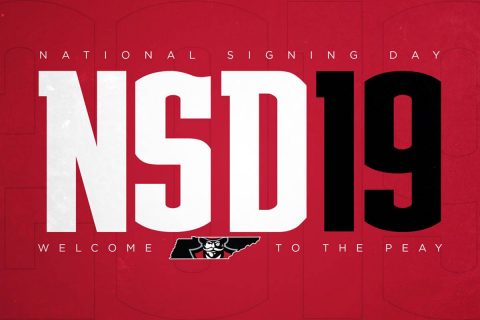 Austin Peay State University, which begins its final regular-season Wednesday night, will see four seniors depart from this season's squad, including a pair of outside hitters, a libero and a setter/defensive specialist.
Those departures made it imperative to add offensive punch for the 2020 season.
"Last season, we knew we had to add a setter and depth scoring to our roster," said Mott. "Looking at our needs for the 2020 season we planned to add quality hitters and I believe we have three athletes who will flourish at APSU in the years to come. This is a signing class we have been looking forward to for a couple of years now and we are excited to see them in Austin Peay uniforms next season."
2019 APSU Signing Class
Kaylah Jackson
5-8, Outside Hitter, Douglasville, GA (Riverwood International Charter)
A two-time Class 5A GVCA All-State selection… Named Region 6-5A Player of the Year as a junior and senior… Helped lead Riverwood International to Class 5A State Quarterfinals in both 2018 and 2019… Selected to play in the 2018 and 2019 FACA All-Star Games… Recorded 1,000th career kill as a junior and 1,000th career dig as a senior… Played varsity volleyball for her mother, Nikia Bynum-Isler, who played volleyball at Alabama State (1996-00)… Played club volleyball for A5 South and coach Jeremy Harrison.
Mott's Thoughts: "Kaylah can do it all. She is a great passer and defender but is also a threat at the net. She is explosive, can swing hard but also has a wide variety of shots. We are excited to have Kaylah joining our program."
Maggie Keenan
5-11, Middle Blocker, Franklin, TN (Lipscomb Academy)
Played five varsity seasons for Lipscomb Academy and head coach Jake House… Named Division II Class AA Middle Tennessee Region MVP as a senior… Named to TSWA Division II All-State Team in 2017 & 2018… Selected to The Tennessean All-Mid State First Team in 2018 and was a second team pick in 2017… Finished prep career with 1,244 kills, 179 blocks and 183 service aces… Played club volleyball with Alliance Volleyball Club and coach Abbey West.
Mott's Thoughts: "I have known Maggie since she was a goofy 10-year-old just learning how to play volleyball. It has been amazing to watch her develop into a highly competitive, dominant middle blocker. Maggie has such a fast arm swing she is very difficult to stop. We are excited to have Maggie joining our program."
Taylor McInerney
5-10, Outside Hitter, Annville, PA (Palmyra Area Senior HS)
Helped lead Palmyra to the Pennsylvania Class AAA State Championship match, to be played Saturday… Was a three-time Pennsylvania Volleyball Coaches Association All-State selection (2016-18) with head coach Clark Sheaffer… Had more than 1300 kills entering state tournament… Played club volleyball for Fusion Volleyball Club and coach TJ Shultz.
Mott's Thoughts: "Taylor is incredibly athletic, she elevates so well and has such a fast arm swing we feel she can be a great offensive weapon. We are excited to have Taylor joining our program."
Morgan Rutledge
5-9, Libero, Louisville, KY (Mercy Academy)
Member of Mercy Academy team that reached the Kentucky state championship match in three consecutive seasons… Primarily a defensive and serving specialist during her prep career, recorded 37 service aces as a senior… Played club volleyball with KIVA.
Mott's Thoughts: "Morgan is a fierce competitor whose solid passing in serve receive and outstanding defense makes her a top notch libero. She also has a calm presence on the court, which is key in our often-chaotic sport. We are excited to have Morgan joining our program."
Sections
Sports
Topics
Annville PA, APSU, APSU Athletics, APSU Sports, APSU Volleyball, APSU Women's Volleyball, Austin Peay State University, Clarksville, Clarksville TN, Douglasvilel GA, Franklin TN, Kaylah Jackson, Lady Govs, Louisville KY, Maggie Keenan, Morgan Rutledge, Ohio Valley Conference, OVC, Taylor McInerney, Taylor Mott