Clarksville, TN – Austin Peay State University (APSU) head women's golf coach Jessica Cathey is pleased to announce the commitment of Kady Foshaug during the fall signing period.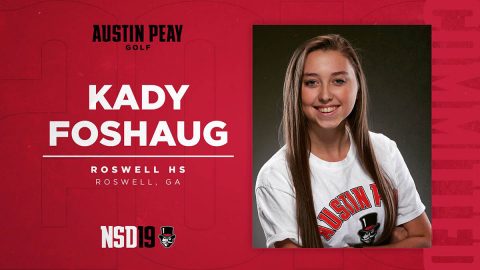 Foshaug, of Roswell, Georgia, is Austin Peay State University's second addition from the Peach State in as many years, joining Valdosta native Payton Elkins.
As a junior, Foshaug was an instrumental part of a Roswell High School program which won a Division 3-AAAAAAA title, tying for runner-up honors and propelling the Hornets toward the state tournament for the third time in Foshaug's tenure.
Roswell placed third in 2017 and fifth in 2018 at the state level, with Foshaug placing 11th and 13th as an individual; in her junior campaign, she shot 76-79 to place sixth overall at the state level.
On the junior circuit, Foshaug was the Georgia PGA Junior Player of the Year in 2016 and 2017, winning several tournaments, including the UGA Junior Classic and Rome Junior Classic twice. Earlier this year, she was runner-up at the Georgia PGA Junior Championship, shooting a 227 (74-76-77).
An honor roll student, Foshaug is a member of the Student-Athlete Leadership Team at Roswell High and volunteers as a girls basketball coach for fourth and fifth graders.
"Kady is a fierce competitor that will come in and contribute immediately," Cathey said. "Her work ethic and desire to be the best will help us reach our goals and better our program. We are very excited she chose to be a Gov and are looking forward to her arrival next fall."