#20 Tennessee (4-0) vs. Chattanooga (3-2)
Monday, November 25th, 2019 | 6:01pm CT
Knoxville, TN | Thompson-Boling Arena | TV: SEC Network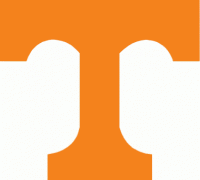 Knoxville, TN – 20th-ranked Tennessee Vols men's basketball hits the hardwood for a Monday night matchup with Chattanooga inside Thompson-Boling Arena. Tipoff is slated for 6:00pm CT on SEC Network.
Monday's contest can be seen on SEC Network, online through WatchESPN and on any mobile device through the ESPN App. Viewers can log on to WatchESPN at espn.com/watch. Mike Morgan (play-by-play) and Daymeon Fishback (color) will have the call.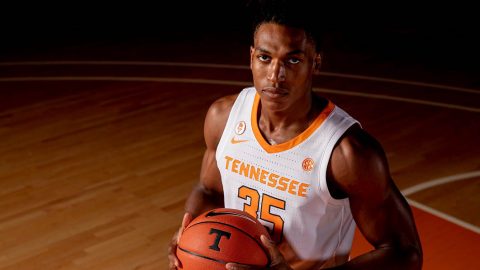 Fans can also listen live on their local Vol Network affiliate to hear Bob Kesling (play-by-play) and Bert Bertelkamp (color) describing the action.
Monday is Salute to Service night at Thompson-Boling Arena. Current and former military members can gain free admission for themselves and their immediate family members by showing a valid Military I.D. at gates c, e and the ticket tent located on Phillip Fulmer Way.
Last time out, the Vols steamrolled past Alabama State 76-41 on Wednesday night. The night was highlighted by seniors Jordan Bowden and Lamonte Turner becoming the 51st and 52nd members of Tennessee's 1,000 Point Club. Bowden did so midway through the first half on a jumper from the short corner. Turner achieved his milestone bucket on a driving layup that led to an and-1 opportunity. Freshman Josiah-Jordan James was also impressive, bringing down a season-high 13 rebounds, while also dishing off five assists.
Tennessee's matchup with the Mocs will be the 40th all-time meeting between the programs, with the Vols looking to avenge an 82-69 loss, the last time the teams met. UT currently sits with 94-17 all-time record against teams from the Southern Conference.
Up next, the Tennessee Vols will travel south, to Niceville, Florida for the Emerald Coast Classic on Friday, November 29th and Saturday, November 30th. On Friday, UT will take on Florida State at 6:00pm CT on CBS Sports Network. On Saturday the Vols will take on either Purdue or VCU at 3:00pm or 6:00pm CT. Both games will take place inside The Arena on the campus of Northwest Florida State College.
The Series
Tennessee leads its all-time series with Chattanooga, 33-6, dating to 1913. The Vols had won four straight in the series before the Mocs toppled the Big Orange, 82-69, in the 2016-17 season-opener at Thompson-Boling Arena.
The Vols are 94-17 all-time against current members of the Southern Conference.
Rick Barnes is 0-1 against the Mocs, as his lone previous meeting against Chattanooga was UT's opener three seasons ago.
A Win Would
Give the Volunteers their 30th consecutive home win; it is the longest active home win streak in Division I.
Leave Rick Barnes' three wins away from recording his 700th career head coaching victory.
Give Tennessee a 52-14 record as a ranked team during the Barnes era (AP rankings).
Storylines
Chattanooga freshman Grant Ledford is a Knoxville native who graduated in May from Grace Christian Academy, where he totaled more than 2,400 points and more than 1,000 rebounds.
The Vols are 14-4 against in-state opponents under Rick Barnes. See note on Page 4.
Vols seniors Jordan Bowden and Lamonte Turner both surpassed the 1,000-career-point milestone during Wednesday's win over Alabama State. They became the 51st and 52nd Vols ever to score 1,000 points, respectively.
Monday's contest is the second of two straight home games for the Vols before they travel to the Destin, Florida, area for the Emerald Coast Classic. Tennessee faces Florida State Friday before playing either Purdue or VCU on Saturday.
Layup Lines
Tennessee returned to the top 25 last week, landing at No. 20 in the AP poll and No. 17 in the coaches poll. The Vols spent all of last season ranked in the AP top 10. The polls will be updated the day of the Chattanooga game.
Tennessee leads the SEC in 3-point shooting percentage (.411), blocks per game (6.8 bpg) and assists per game (19.3 apg).
Lamonte Turner ranks second among Division I players with 8.5 assists per game, trailing only Iowa State's Tyrese Haliburton (10.3 apg).
It was announced Thursday that the Vols are set to play in next season's Charleston Classic in Charleston, South Carolina. That is the hometown of current Vols freshman Josiah-Jordan James.
Yves Pons made 39 field goals in his first two seasons as a Vol (59 games). He has 24 made field goals in UT's first four games this year.
About the Chattanooga Mocs
A member of the University of Tennessee system, UT Chattanooga is coming off an 89-53 loss against Florida State in Tallahassee Wednesday night. The Mocs currently sit at 3-2, with a consistent starting five that features team leaders in nearly every major statistical category.
Chattanooga looks to continue its climb back to the top of the Southern Conference ranks in 2019-20. After winning the SoCon Tournament and representing the league in the NCAA Tournament in 2015-16, the Mocs have failed to advance past the SoCon quarterfinals.
After the transfer of three of its top four scorers, UTC seeks positive contributions from its own incoming transfers, Ramon Vila and Matt Ryan. Ryan currently ranks second on the team in both scoring (15.4 ppg) and steals (1.0 spg), while Vila has been a force on the boards, ranking second on the team with 5.6 rpg.
The Mocs also lean on their leading scorer, redshirt-junior guard David Jean-Baptiste (16.4 ppg) who is the last holdover from the coaching change that saw the departure of Matt McCall and the hiring of current head coach Lamont Paris.
In their history, the Mocs have won 10 SoCon Tournament titles, 10 regular-season crowns and made a memorable run to the Sweet Sixteen of the 1997 NCAA Tournament as a #14 seed, defeating Georgia and Illinois before falling to Providence.
Notable alumni from UTC include the late actor Hugh Beaumont, who portrayed Ward Cleaver in the hit television series Leave it to Beaver, which ran from 1957-63.
Last Time vs. Chattanooga
Taking the court with its youngest lineup in 20 years, Tennessee dropped its season-opener, 82-69, to Chattanooga November 11th, 2016 in Thompson-Boling Arena.
The Vols took a 17-10 lead on freshman guard Jordan Bone's 3-pointer with 10:32 to go in the first half, which marked their biggest lead of the night and their only made shot from long range.
Tennessee finished 1-16 from 3-point range and shot just 32.8 percent from the field.
Bone led the Vols with 21 points on 8-of-14 shooting in his Tennessee debut. Another freshman, redshirt Lamonte Turner added 12 points off the bench. Grant Williams, also a freshman, had a team-high 10 rebounds for Tennessee.
Senior Justin Tuoyo led Chattanooga with a game-high 22 points, while Tre' McLean added 20. Tuoyo (11) and McLean (10) posted double-digit rebound totals.
The loss marked just the third time Tennessee had lost its season-opener in 30 years at Thompson-Boling Arena.
UT Vols Successful On The In-State Circuit
Tennessee has won its last seven games against in-state opponents and is 14-4 vs. in-state foes under coach Rick Barnes.
Those 14 wins include triumphs over ETSU (twice), Lipscomb (twice), Memphis, Tennessee State, Tennessee Tech (twice) and Vanderbilt (six times).
Nation's Longest Home Win Streak
Tennessee is riding a 29-game home win streak that is the longest active streak among Division I teams.
The streak dates to the 2017-18 season. The Vols won their final eight games at Thompson-Boling Arena that year before going 18-0 at home last season.
Tennessee's last loss in Knoxville was a 94-84 loss to Auburn on January 2nd, 2018.
The program record for consecutive home wins is 37 (2006-09). The current streak is the third-longest in UT history. The Vols have also authored a home win streaks of 33 games (1966-68).
Kent Steps Away Indefinitely
It was announced on November 20th that redshirt sophomore forward Zach Kent decided to step away from the program indefinitely.
Kent's absence is in no way disciplinary in nature. He remains enrolled in classes and has the full support of the program and university.
There is no timetable for his return.
Windicators
Tennessee under Rick Barnes is 40-4 when holding its opponent below a .390 field-goal percentage.
Tennessee under Rick Barnes is 39-3 when it takes a double-digit lead into halftime.
The Vols are 13-1 during John Fulkerson's career when he grabs five or more rebounds.
Tennessee is 7-1 during Lamonte Turner's career when he makes four or more 3-pointers.
The Vols are 5-0 during Yves Pons' career when he scores 10 or more points.
Guards Hitting The Glass
Did you know that Vols senior Jordan Bowden has the sixth-most career rebounds among all active players in the SEC? He has 351 boards in his career.
Two other UT guards rank among UT's top-five rebounders this season. True freshman Josiah-Jordan James (6.3 rpg) ranks second on the team, while Lamonte Turner ranks fifth (4.3 rpg).
James pulled down 13 rebounds in UT's win over Alabama State on November 20th.