Clarksville, TN – The Austin Peay State University (APSU) Department of Art + Design is pleased to invite everyone to an end-of-the-semester open house from 5:30pm-6:30pm Wednesday, December 4th, 2019.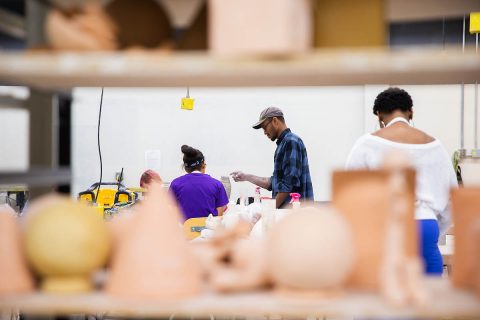 See what the art and design students have been making this semester and what the inside of many of our art studio classrooms look like! Student and faculty work will be on display from ceramics, sculpture, art education, foundations, illustration, art history, painting, drawing, printmaking, photography, graphic design and animation throughout the APSU Art + Design Building and the Trahern building and classrooms.
Printmaking students will be having a print sale that coincides with the open house. Visitors also can take advantage of the final day of the do it exhibition in The New Gallery, Karen Lee Orozco's senior exhibition in the Barbara Beach Student Gallery and Samantha Espinoza's senior Bachelor of Arts exhibition in Trahern Room 108. All will have extended hours until 6:30pm.
Free parking is available in Austin Peay State University parking lots after 4:00pm The APSU Art + Design building is at 730 Joseph Street next to the Trahern building, where ceramics and sculpture are housed. Both buildings are at the corner of Eighth Street and Joseph Street.
To learn more
For more about the APSU Department of Art + Design, go to www.apsu.edu/art-design/.