Tennessee (5-0) vs. Arkansas-Pine Bluff (0-3)
Tuesday, November 26th, 2019 | 6:02pm CT
Knoxville, TN | Thompson-Boling Arena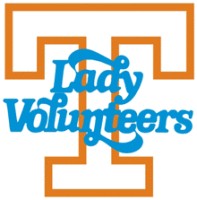 Knoxville, TN – The Tennessee Lady Vols basketball team (5-0), who last week made their season debut at No. 23 in the AP Poll and were receiving votes in the USA Today Coaches Poll, welcome Arkansas-Pine Bluff (0-3) to Thompson-Boling Arena for a 6:00pm CT contest on Tuesday night. New AP and USA Today Coaches Polls will be released on Monday and Tuesday, respectively.
Tennessee is playing its third of six straight games on Rocky Top after opening with two of the season's first three contests on the road. After facing UAPB, the Lady Vols welcome Air Force (December 1st), Texas (December 8th) and Colorado State (December 11th) to The Summitt.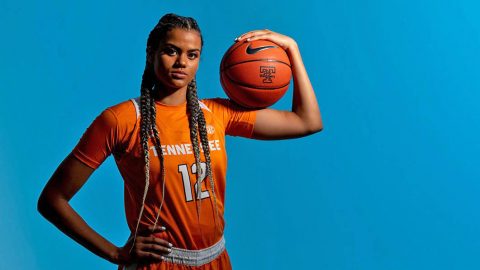 The UAPB and Air Force games are part of UT's Salute to Service Week, while the Texas match-up is part of the Big 12/SEC Challenge.
The meeting with the Golden Lions is the first-ever between the schools in women's hoops.
Tennessee stayed perfect on the season last Tuesday, hitting six first-quarter three-pointers en route to a 73-46 home victory over Stetson. Arkansas-Pine Bluff, meanwhile, remained winless, falling behind 21-0 in the contest and losing at Illinois, 65-50, on Thursday evening.
Broadcast Information
Tuesday night's game will be streamed live on SECN+ with Andy Brock (PxP) and Steve Hamer (Analyst) on the call. The contest also can be heard on Lady Vol Network radio stations and by audio stream, with Mickey Dearstone calling the action for the 21st season.
A link to the live audio stream can be found on each game's Hoops Central page or the Lady Vol schedule on UTSports.com.
For a list of Lady Vol Network affiliates, please click on the Fans tab at the top of UTSports.com, select Vol Network and then click on Vol Network Affiliates in the black bar at the top of the page.
Air time for games on the Lady Vol Radio Network generally occurs 30 minutes prior to tip-off.
SECN+ games are online broadcasts and are available only on WatchESPN via computers, smartphones and tablets.
All of the games included in the ESPN package (ESPN, ESPN2, ESPNU) and the SEC Network will be available through WatchESPN, accessible online at WatchESPN.com, on smartphones and tablets via the WatchESPN app, and streamed on televisions through Amazon Fire TV, Apple TV, Chromecast, Roku, Xbox 360 or Xbox One to fans who receive their video subscription from an affiliated provider.
Promos
It's Salute to Service Week, when we honor all who have served and say thank you for their service and sacrifice. Current military members and veterans may present their Military ID or DD 214 at Gate C, Gate E or the ticket tent located on Phillip Fulmer Way prior to entering Thompson-Boling Arena for complimentary admission for themselves and their immediate family.
There's also a "School's Out" promotion. All kids 12 and younger receive complimentary admission at any arena gate upon entry to the UAPB game.
It's Hoops for Hunger Night. Donate two non-perishable food items and receive one complimentary ticket. Donations benefit the Second Harvest Food Bank, helping to feed East Tennessee families in need. Please bring all donations in a clear or disposable bag.
Tickets are available at AllVols.com. Spark the Summitt with tickets starting at $5! Gates open at 6 p.m.
It's $2.00 Tuesday! Popcorn is only $2.00 from the time gates open until tip-off with a voucher. Redeem your voucher at concession stands 304 or 311.
Participate in "High-5 the Lady Vols." Kids 12 & younger can pick up a wristband at the Fan HQ table on the concourse to participate in the pregame High-5 tunnel. Wristbands are limited. To purchase discounted group tickets and reserve wristbands for your team, please call 865-946-7000.
Free parking & shuttle service is available from UT's Ag Campus. Shuttles begin two hours prior to tip.
Recapping Tennessee's Last Game
Five players scored in double figures, as No. 23 Tennessee topped Stetson, 73-46, at Thompson-Boling Arena on Tuesday night to improve to 5-0.
The Lady Vols opened with five straight wins for the third season in a row, and they gave head coach Kellie Harper the first 5-0 start of her career.
Junior Rennia Davis and freshman Jordan Horston led UT in scoring with 15 and 14 points, respectively. Sophomore Rae Burrell notched her first career double-double with 10 points and 11 rebounds, while sophomore Jazmine Massengill pitched in 12 points and junior Kasiyahna Kushkituah tallied 11.
Stetson (2-3) was led in scoring by Day'Neshia Banks, a high school teammate of Davis, with 21, followed by Kennedi Colclough with 10.
With the win, UT improved to 8-0 against Stetson (2-3) and to 12-0 all-time vs. schools in the Atlantic Sun Conference. Tennessee out-rebounded the Hatters 48-32, making it the fifth-straight game that the Big Orange recorded more rebounds than their opponents.
Notes From The Last Game
Horston Dishing: Jordan Horston doled out seven assists against Stetson, leading the team for the fourth time this season and moving her average to 4.8 apg. If the season ended today, that average would rank her second all-time among UT freshmen.
Unselfish Play: UT posted its highest assist total of the season against Stetson, dishing out 19 on the night. Through five games the Lady Vols have recorded at least 16 assists in every contest.
Raining Threes:
The Lady Vols scored their first 18 points from behind the arc vs. Stetson, shooting a sizzling 66.7 percent from 3-point range in the first quarter. The six made threes in the opening quarter tied UT's record for most threes in a quarter that was set during the opening stanza at Long Beach State on Dec. 17, 2017.
Newcomers Hitting Opening Buckets: Lou Brown and Jordan Horston opened the scoring for UT against Stetson, knocking down 3-pointers to combine for the Lady Vols' first nine points. Newcomers have scored the first points in four of Tennessee's five games this season.
Working the Boards: Six Lady Vols finished the night with 5+ rebounds, helping UT out-board Stetson 48-32. Tennessee is averaging 53.0 rebounds per game through five games while holding opponents to 35.2.
1st and 500th: Tuesday's match-up with Stetson was the 500th Lady Vol game played in Thompson-Boling Arena. The first contest in T-BA was played on December 3rd, 1987, and also featured the Hatters. In that contest No. 1-ranked Tennessee defeated Stetson, 102-59.
Harper History In The Making
Kellie Harper will attempt to open a season 6-0 for the first time in her head coaching career. She twice opened 4-0 at NC State in 2011-12 and 2012-13 before topping that with a 5-0 start at UT this season.
On November 18th, 2019, Kellie Harper became the 40th person to play for and coach an AP-ranked women's basketball team when UT debuted at No. 23.
She became the 13th person to accomplish that feat at the school where she also played.
According to Hoops Guru Mel Greenberg, UT and USC are the only schools with two alums to accomplish that feat. Harper and Holly Warlick did so at Tennessee, while Cheryl Miller and Cynthia Cooper-Dyke did so at Southern Cal.
Harper is one of only 11 coaches to lead three different women's programs to NCAA Tournament appearances (Western Carolina, NC State, Missouri State).
She will attempt to join Jim Foster (St. Joseph's, Vanderbilt, Ohio State, Chattanooga) in becoming the only coaches to take four different women's teams to the NCAA tourney.
Tennessee Lady Vols Topics
Tennessee has opened a season 5-0 for the third year in a row and will attempt to make it 6-0 for the third time in as many seasons.
After opening up the season with three games in seven days and four in 10, UT is playing only two contests between November 19th and December 1st.
The Lady Vols have won the rebounding battle in all four games and have a +17.8 margin vs. opponents.
Eight players currently are averaging at least 4.5 rebounds per game, led by Rennia Davis at 8.0 and Kasiyahna Kushkituah at 6.2. Seven different players have led the squad in rebounds during the first five games.
The Big Orange have been big on swatting shots, averaging 7.6 blocks per contest. Tamari Key averages 3.0 per game.
Jordan Horston (10-20, .500) and Rennia Davis (6-19, .316) have accounted for 16 of UT's 28 three-pointers this season. Lou Brown has four.
Tennessee is allowing only 51.2 points per game and has given up more than 46 points in only two of its five contests.
The highest field goal percentage UT has allowed in a game this season was .348 to ETSU in the opener.
After getting to the free throw line only three times vs. Central Arkansas, UT has averaged 23.7 trips to the charity stripe in its last three contests.
Tennessee has had 16 or more assists in each game this season.
There have been four different leading scorers thus far, including Zaay Green vs. ETSU (17), Jordan Horston vs. Central Arkansas (17), Rennia Davis (twice) and Rae Burrell vs. Tennessee State (14).
UT-UAPB Series Notes
Tennessee and the University of Arkansas-Pine Bluff are meeting for the first time in women's basketball.
The Golden Lions are members of the Southwestern Athletic Conference.
UT is 5-0 in all-time meetings vs. schools currently in the SWAC.
In their most recent meeting with a SWAC program, the Lady Vols defeated Alabama State, 104-51, in Knoxville on December 3rd, 2017.
UT also has other homecourt SWAC wins over Alabama State (95-43 on March 22, 2003), Alcorn State (90-37 on November 25th, 2012), Grambling State (91-54 on March 15, 1997) and Jackson State (72-56 on March 13th, 1982).
Tennessee has reached at least the Elite Eight level in postseason play in each of the five previous seasons where it played a SWAC school and went to the NCAA Final Four in three of those seasons (1982, 1997, 2003).
Current Lady Vol head coach Kellie Harper (née Jolly) was the point guard on the 1996-97 squad that hosted SWAC school Grambling State during the NCAA First Round. She tallied seven points, three assists, two rebounds and a steal in 17 minutes of duty during that contest.
This will mark the second of three games vs. schools from the Natural State during the 2019-20 campaign. UT beat Central Arkansas (of Conway, Ark.) in Knoxville on Nov. 7 by a score of 63-36. The Lady Vols also will play at the University of Arkansas in Fayetteville on February 20th.
About Arkansas-Pine Bluff
The University of Arkansas at Pine Bluff is located in the city of Pine Bluff, population 42,984. It is located 44 miles southeast of Little Rock.
UAPB is coached by Dawn Brown, who is 0-3 in her first season at the school and 48-73 in her sixth season as a head coach.
The program returned six players and welcomed six newcomers for 2019-20.
The Golden Lions are paced in scoring by 5-11 senior forward Ayia El Hassan, who is averaging 13.0 ppg. Tyler Pyburn, a 5-9 freshman guard, tosses in 9.7 ppg. and pulls down 5.0 rpg.
Keonia Harris, a 5-5 junior guard, is averaging 9.3 ppg., while 5-8 senior guard Noe'll Taylor, who joins El Hassan as one of the squad's top returnees, is adding 6.7 ppg.
UAPB is facing nine non-conference games on the road in preparation for the Southwestern Athletic Conference schedule.
Those opponents are members of seven different conferences. Texas Tech & Iowa State are part of the Big 12, while Illinois is in the Big Ten. Milwaukee is a Horizon League member and Wichita State is a member of the American Athletic Conference. Washington State is a member of the PAC-12, Tennessee is a member of the SEC and both Arkansas State and Coastal Carolina are part of the Sun Belt.
Recapping Arkansas-Pine Bluff's Last Game
The University of Arkansas at Pine Bluff women's basketball team was in a battle for the third straight game, nearly erasing a big deficit before falling 65-50 at Illinois last Thursday night at the State Farm Center in Champaign.
Despite being outscored 21-0 over the first 12+ minutes of the game, the Lady Lions rallied to outscore Illinois 50-44 over the final 27+ minutes of the contest, finished even in rebounding at 38-38, and won both the second and fourth quarters in scoring against the Illini of the Big Ten Conference.
Nissa Sam-Grant had a double-double with 10 points and 11 rebounds. Tyler Pyburn led UAPB with 12 points, while Aiya El Hassan and Noe'll Taylor each scored 10.
Sam-Grant's basket with just over seven minutes to play until halftime got the Lady Lions on the scoreboard and sparked a quarter-ending 17-6 run. Combined with holding Illinois to only 2-of-15 shooting in the period, UAPB trailed 27-17 at halftime.
In the third quarter, Illinois pushed its lead to 23 points, but UAPB would not give in. The Lady Lions outscored the Illini 22-14 over the final 11+ minutes. UAPB cut the deficit to 10 points twice in the fourth quarter, the last on a jumper by El Hassan to trim the score to 56-46 with 3:55 remaining, but could get no closer.