Nashville, TN – Between Thanksgiving and Christmas, more than 1 million units of blood could be transfused in the United States. Individuals are urged to give a lifesaving gift this holiday season by making an appointment to donate blood or platelets and help the American Red Cross ensure a sufficient supply is available for patients throughout the holiday season.
Those with type O blood are especially needed.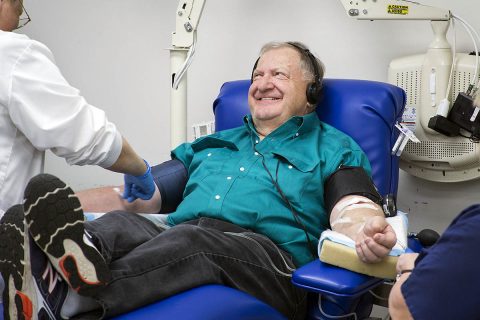 How blood donation impacts lives
On September 28th, 2018, MaKenzie Schienebeck experienced a complication during her pregnancy and found herself losing blood extremely fast. She was in and out of consciousness and felt her life slipping away. Schienebeck was given blood transfusions on the way to the hospital, during emergency surgery and after surgery.
"I would not be alive today if it was not for the American Red Cross and the gracious donors who gave their blood," said Schienebeck. "Blood is more than just blood. It's the key to saving lives."
During the holiday season, set aside an hour to give blood and be the lifeline patients need. Make an appointment now by downloading the free Red Cross Blood Donor App, visiting RedCrossBlood.org, calling 1.800.RED CROSS (1.800.733.2767) or enabling the Blood Donor Skill on any Alexa Echo device.
In thanks for helping meet the urgent need, those who come to give blood or platelets now through December 18th will receive a $5.00 Amazon.com Gift Card via email, courtesy of Suburban Propane. (Restrictions apply; see amazon.com/gc-legal. More information and details are available at RedCrossBlood.org/Thanks.)
Upcoming blood donation opportunities Dec. 2-31:
American Red Cross
1760 Madison Street
Clarksville, TN 37043
12/2/2019: 10:30am – 4:30pm
12/9/2019: 10:30am – 4:30pm
12/16/2019: 1:30pm – 5:30pm
12/23/2019: 10:30am – 4:30pm
12/30/2019: 10:30am – 4:30pm
First Baptist Church Dickson
2501 Highway 70 E.
Dickson, TN 37055
12/9/2019: 2:00pm – 7:00pm
Governor's Square Mall
2801 Wilma Rudolph Boulevard
Clarksville, TN 37040
12/23/2019: noon – 6:00pm
Jackson Chapel United Methodist Church Community Center
3008 Bowker Road
Charlotte, TN 37036
12/14/2019: 9:00am – 2:00pm
Petrie Memorial United Methodist Church
202 East Main Street
Elkton, KY 42220
12/13/2019: noon – 6:00pm
St. Stephen Catholic Church
1698 Canton Road
Cadiz, KY 42211
12/3/2019: 11:00am – 5:00pm
Walnut Street Church of Christ
201 Center Avenue
Dickson, TN 37055
12/12/2019: 10:30am – 3:30pm
White Bluff Church of Christ
4416 Hwy 70
White Bluff, TN 37187
12/18/2019: 2:00pm – 7:00pm
How to donate blood
Simply download the American Red Cross Blood Donor App, visit RedCrossBlood.org, call 1.800.RED CROSS (1.800.733.2767) or enable the Blood Donor Skill on any Alexa Echo device to make an appointment or for more information. All blood types are needed to ensure a reliable supply for patients.
A blood donor card or driver's license or two other forms of identification are required at check-in. Individuals who are 17 years of age in most states (16 with parental consent where allowed by state law), weigh at least 110 pounds and are in generally good health may be eligible to donate blood. High school students and other donors 18 years of age and younger also have to meet certain height and weight requirements.
Blood and platelet donors can save time at their next donation by using RapidPass® to complete their pre-donation reading and health history questionnaire online, on the day of their donation, before arriving at the blood drive. To get started, follow the instructions at RedCrossBlood.org/RapidPass or use the Blood Donor App.
About the American Red Cross
The American Red Cross shelters, feeds and provides emotional support to victims of disasters; supplies about 40% of the nation's blood; teaches skills that save lives; provides international humanitarian aid; and supports military members and their families. The Red Cross is a not-for-profit organization that depends on volunteers and the generosity of the American public to perform its mission.
For more information, please visit redcross.org or cruzrojaamericana.org, or visit us on Twitter at @RedCross.