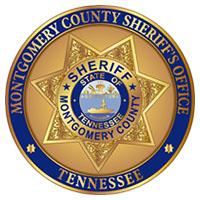 Montgomery County, TN – At approximately 9:53am, a Montgomery County Sheriff's Deputy, Sgt. Daniel Gagnon, conducted a traffic stop for a window tint violation, at Sango Road and Highway 76. During the stop, the suspect, Andrew Timmerman, was found to be in possession of Narcotics.
While being placed into custody, he began to fight Gagnon. After a struggle, the suspect was able to get away from Gagnon, jump in the marked patrol unit, and flee the scene.
Several units to include the Clarksville Police Department, the Tennessee Highway Patrol, Tennessee Wildlife Resources Agency, Cheatham County Sheriff's Office, Pleasant View Police Department, and Ashland City Police Department responded to the area to assist.
All Montgomery County Sheriff vehicles are equipped with GPS systems allowing dispatch and other units the ability to monitor locations.
While attempting to avoid tire deflation devices, Timmerman went off the road and into a ditch on Bearwallow Road in Cheatham County. He was quickly taken into custody at approximately 10:23am. He was transported to a hospital with minor injuries.
A Cheatham County Law Enforcement Officer was injured during the pursuit while attempting to deploy a tire deflation device. They were transported to a hospital for treatment. Sgt. Gagnon was also injured during the incident and was treated on scene by Montgomery County EMS.
Timmerman has an extensive criminal history and is facing multiple charges in both Montgomery County and Cheatham County. The Montgomery County Sheriff's Office and the Tennessee Highway Patrol are investigating the incident.
"Traffic stops can turn into dangerous situations very quickly. We are thankful that we were able to quickly track the vehicle and get this dangerous criminal into custody. I greatly appreciate the assistance given by all of our neighboring law enforcement agencies during this incident. We are also extremely grateful that there were only minor injuries and no lives were lost during this incident," said Montgomery County Sheriff John Fuson.