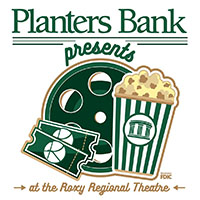 Clarksville, TN – This Sunday, December 15th, 2019, get yourself in the Christmas spirit with one of the most beloved musical romantic comedies of all time! For our final movie of 2019, Planters Bank Presents… Irving Berlin's "White Christmas" on the Roxy Regional Theatre's big screen this at 2:00pm.
Bing Crosby and Danny Kaye play singers Bob Wallace and Phil Davis, who join sister act Betty and Judy Haynes (Rosemary Clooney and Vera-Ellen) to perform a Christmas show in rural Vermont.
There, they run into Gen. Waverly (Dean Jagger), the boys' commander in World War II, who, they learn, is having financial difficulties; his quaint country inn is failing.
So what's the foursome to do but plan a yuletide miracle: a fun-filled musical extravaganza that's sure to put Waverly and his business in the black!
Rating: NR / Running time: 120 minutes / Release year: 1954 / Director: Michael Curtiz / Cast: Bing Crosby, Danny Kaye, Vera-Ellen, Rosemary Clooney, Dean Jagger
Admission is $5.00 (Cash or Check Only), and tickets are available at the box office between 9:00am and 2:00pm, Monday through Friday. Any remaining tickets will be available beginning an hour prior to showtime. Advance ticket purchases are strongly encouraged. Popcorn, assorted candy and beverages will be available as concessions.
Keep an eye on our website at www.roxyregionaltheatre.org/filmseries for news about upcoming movies, and like us on Facebook at www.facebook.com/PlantersBankPresents
About the Roxy Regional Theatre
The Roxy Regional Theatre is a 501(c)(3) nonprofit organization dedicated to producing professional live theatre and promoting the arts, with emphasis on education, in Clarksville, Middle Tennessee and the Southeast. The theatre is located at 100 Franklin Street in Historic Downtown Clarksville.
For more information, visit www.roxyregionaltheatre.org