Clarksville, TN – Clarksville Police Department's Community Relations Unit's partnership with Montgomery County Animal Care and Control and Ravenwood Coffee and Creations for "Pets on PAWtrol" had some pups howling with happiness.
Selections were made from Animal Care and Control's plethora of animals to be featured as Pets on PAWtrol. Many of those chosen had been at the facility for a long period of time and were considered "at-risk". The selections weren't limited to dogs and cats. There was a rabbit, guinea pig, and ferret that found their forever home.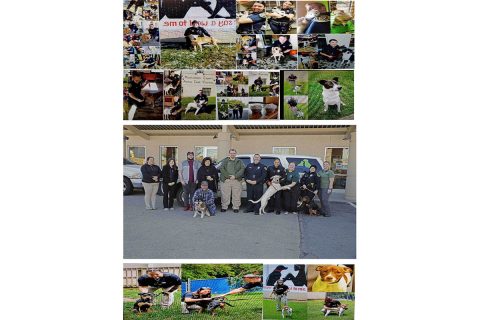 Officers would go by and take their pet of choice out of the facility for some play time, photo ops, and a trip to Ravenwood Coffee and Creations for a delicious treat as well as some public exposure. Then with heavy hearts, the officers went back to Animal Care and Control to return their pet of the day.
Details on the pets up for adoption/rescue, information on the officers with the pets, and the procedures to find out more about adopting the featured pets was disseminate out through social media.
It would be sad if that was the end of the story. But, that's not the case. The 19 animals which were featured as part of Pets on PAWtrol had 100 percent adoption or rescue rate.
The Pets on PAWtrol is on hiatus over the holiday season, but will be revitalized after the beginning of the year. Keep an eye out on Clarksville Police Department's Facebook page for more info.
Keep in mind there are always many wonderful pet looking for a forever home at Montgomery County Animal Care and Control. Please go by 616 North Spring Street to check them out or call them at 931.648.5750.