Clarksville, TN – Clarksville Police Department hosted a pilot First responder program specifically for the homeschool community at CPD's Training Facility, Tuesday, December 17th, 2019.
Our Community Relations Unit discovered while being involved in other community related events, that Clarksville-Montgomery County has a large homeschool population which may not have an opportunity to interact with first responders through the course of their studies.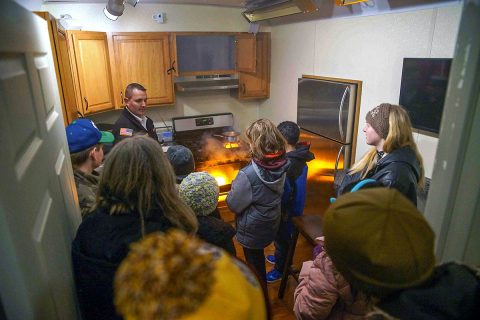 With the help of the Montgomery County Sheriff's Office, Clarksville Fire Rescue, E-911 Center, Montgomery County EMS and Fort Campbell Fire Department, the students were provided information about fire safety, the ins and outs of law enforcement, EMT services and the use of 911.
They observed a TACT team demonstration, apprehension by a K9 team, and experienced a smoke trailer scenario.
At the conclusion of the program, students were able to get hands on demonstrations with a medic unit, explore an ambulance in a low-stress environment, and operate the emergency response equipment inside of a patrol.
The initial offering for the program was filled in 10 minutes. Since the program was so successful and had such a positive response, CPD will offer it again in 2020.
Thanks to all who contributed and made the program a success.
Photo Gallery