St. Petersburg, FL – The Austin Peay State University (APSU) men's basketball team threw a scare into one of four unbeaten teams left in Division I, pushing Duquesne to the brink in an 86-77 contest to open the St. Pete Shootout, Saturday.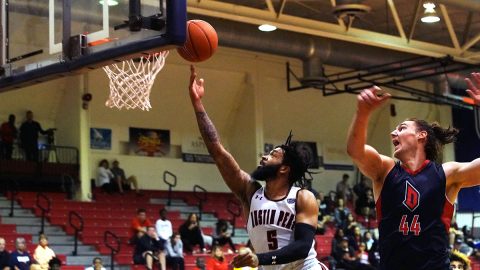 Already down four players to start the day, a turned ankle left Pavle Djurisic sidelined and the Govs down to nine dressed players by tipoff.
The next-man-up mentality turned to Carlos Paez and Sita Conteh, who each made their first start in an Austin Peay State University uniform.
The fresh blood in the lineup seemed to invigorate the Govs, who raced out to an early 15-8 lead, with Jordyn Adams and Terry Taylor scoring the first 12 points and Evan Hinson picking up an old-fashioned three-point play to push the Govs out in front.
The Govs found early success against one of the nation's top defenses, hitting six of their first nine shots from the floor to open play. But Duquesne didn't come in as one of the nation's last unbeatens without taking the best shots from its opponents.
The Dukes, on a 7-of-9 stretch from the floor, went from down three at the 12-minute mark to up by 11 points less than six minutes later as Duquesne heated up from the floor and the Govs drifted into foul trouble. The Dukes were in the bonus by the 11:22 mark, which spelled double trouble for Austin Peay State University; not only did the shorthanded Govs have to mix and match lineups due to foul trouble, the Dukes shot 20 free throws in the first alone.
But just when things looked bleakest for the Govs in the first half, Austin Peay State University rallied. A 9-2 Governor run cut the deficit to four with under a minute to go in the half, but Duquesne scored the final five points of the half to lead 45-36 at the break, despite 12 points from Taylor and 10 from Adams.
The Dukes scored the first six points to open the second half and looked on the verge of pulling away again, but Austin Peay's resilience reared its head again. Antwuan Butler opened an 11-2 run with an old-school three-point play, followed by a three from deep, then it was Adams' turn for another five points to cut the Duquesne lead to six less than four minutes into the half.
The Govs were continued to make life difficult for the Dukes as they chipped away at the deficit. A Paez runner made it a five-point game at the 7:37 mark. Conteh nailed a three to cut it to four less than three minutes later.
Taylor, who spent most of the contest double-teamed by one of the nation's most prolific frontcourts, laid in a bucket with 1:56 to play to make it a one-possession game for the first time since early in the first half.
But each big APSU bucket was countered by Duquesne. On the possession following Taylor's bucket, Marcus Weathers got in the lane and earned a three-point play with 90 seconds left; Austin Peay State University would never get closer than that against one of the nation's best free-throw shooting teams as the Dukes went 10-of-11 at the free-throw line over the final 1:34.
The Difference
If you were told that one team had 34 free-throw attempts and another had 18, you could probably guess that the team with 34 free-throw attempts would fare better in the long run. To Duquesne's credit, the Dukes hit 30 of those 34 free-throw attempts, although the Govs weren't too shabby at 16-of-18 from the line. Who can say how this might've shaken out if Austin Peay State University had an additional 16 free-throw attempts?
APSU Notably
The APSU Govs are now at plus-2.1 in turnover margin over the last eight games; Duquesne committed 17 to Austin Peay State University's 16.
In his last five outings, Butler is now averaging 10.4 points, 3.0 rebounds, 4.2 assists and 2.2 steals, hitting 41.7 percent (15-for-36) from the floor.
With 16 points and 11 rebounds, Taylor earned his season's fourth double-double and first since North Florida (December 7th). He's now averaging 25.1 points, 9.7 rebounds, 1.6 blocks and 1.3 steals over the last seven games, hitting 62.9 percent (73-for-116) from the floor.
Austin Peay State University's 88.9 percent mark at the free-throw line is its best in 2019-20. Duquesne's 34 free-throws attempted are the most by an Austin Peay State University opponent since November 12th, 2018, on the other side of the bay when USF shot 41 free-throws.
The loss is APSU's first this season when shooting better than 45 percent from the field.
Four straight Austin Peay State University opponents have now hit better than 50 percent from the floor, the first time that's happened since February 3rd-February 15th, 2018.
Paez is now averaging 10.5 points on 50.0 percent (16-for-32) from the floor, 55.0 percent (11-for-20) from three and 89.3 percent (25-for-28) at the line over the last six games.
Adams scored 20 points for the third time in his young Austin Peay State University career, leading all scorers with 23 points. It's his first 20-point outing since November 20th at Vanderbilt.
Milestone Watch
Taylor passed Wesley Channels for 12th all-time in career field goals with 558.
Coaching Quotables with APSU Head Coach Matt Figger
On Energy
"Our willingness, our want-to and our energy were there. I felt like we fought the whole game. I've got no problem with that. I'm more happy with how we played today than I've been in weeks."
Up Next for APSU Men's Basketball
Austin Peay State University men's basketball will have to turn this around quickly, with Alabama State on tap to close out the St. Pete Shootout, Sunday, with an 11:00am CT tip-off scheduled.