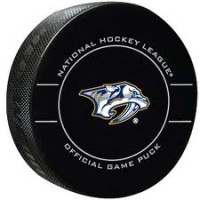 Boston, MA – The Nashville Predators completed their four game road trip with a huge win over the Boston Bruins tonight, 4-3. Nashville picks up seven points out of a possible eight with tonight's win.
Pekka Rinne started in goal for the Predators while the Bruins sent Jaroslav Halak to the net ahead of Tuukka Rask.
After a scoreless first period where Boston was relentless on offense, the second period saw the Bruins get on the board first at 7:30 when Par Lindholm was credited with the goal that bounced in after he rolled into the net.
Roman Josi, who has put this team on his back of late, evened the score at 12:14, when he shoveled a backhander on goal that beat Halak, and the game was tied, 1-1.
Boston would take the lead once again at 19:12 when Patrice Bergeron took a pass from Torey Krug and hammered the one-timer from down low and the power play goal gave the Bruins the 2-1 lead.
In the third period, Filip Forsberg would make up for his penalty that cost the Predators a goal in the second period, by taking the puck from behind the net and slipped the puck beneath Halak on the short side and the game was tied, 2-2.
At 8:10 of the third, in a crazy play, Boston goalie Halak left the crease of the goal to prevent Roman Josi from a breakaway, but Josi stole the puck and fired the puck into the empty net to give Nashville a 3-2 lead.
The unassisted goal caused the Bruins to call their only time-out of the game to settle down after the unusual play.
Boston dialed up the pressure in the closing minutes of regulation, pressuring the Predators, but Rinne stood tall until the 18:55 mark of regulation and Bergeron fired a wrist shot that deflected into the net, and suddenly the game was tied, 3-3.
In the over-time period, not one of Nashville's strengths, both teams traded punches throughout, but at 4:05 of the five minute extra period, Ryan Ellis closed the sale, taking a Ryan Johansen feed from behind the net and scored the game winner, 4-3.
The Bruins out-shot the Predators 32-29, and took six minutes worth of penalties, while Nashville spent eight minutes in the penalty box.
Nashville returns home on Monday night to host the Arizona Coyotes. Puck drops at 7:00pm.