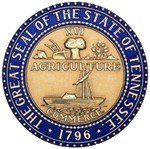 Nashville, TN – Tennessee State Senator Bill Powers (R-Clarksville) will serve as a member of the Veterans' Caucus in the Tennessee General Assembly. The Caucus advocates for issues of importance to veterans.
The announcement was made in Nashville on Friday as lawmakers get ready to convene the 2020 legislative session January 14th, 2020.
"We need to be proactive on all matters that concern our veterans," said Senator Powers.
"This includes securing adequate funding for veterans' programs. The purpose of this caucus is to ensure that Tennessee veterans are a top priority at the Capitol and that the state is following through on its promises to America's heroes," Senator Powers stated.
"Senator Powers will be an excellent addition to the Veterans' Caucus," said Lt. Governor Randy McNally. "His dedication to those who have served our country in the U.S. Armed Forces will be an asset to ensure that our veterans get the care, support and opportunities they've earned."
The Veterans' Caucus is expected to meet in January to address future legislation and funding issues regarding veterans programs.
Powers represents Stewart County, Houston County and Montgomery County in Senate District 22, representing many soldiers based at Fort Campbell Kentucky.