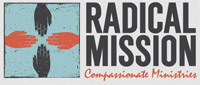 Clarksville, TN – Jon Vaughn of Radical Mission Compassionate Ministries stood at the main entrance of the Austin Peay State University (APSU) Morgan University Center on Christmas Eve, welcoming hundreds of people who were in need of a little help during the holiday season.
"This is our 12th year of doing this," Vaughn said. "During the last 11 years we have served a little over 12,000 meals, and given away more than 15,000 toys. We have also provided 350 free haircuts in the four years our volunteers have offered that service."
Each year, in addition to food, toys and haircuts, community members in need are given access to shoes, clothing, and much more.
"Every year, we try to add something new," Vaughn said. "For example, this is the second year that we are handing out free bibles. Upstairs, we have the 'free store', which has all types of donated clothing that we've collected throughout the year. Volunteers are serving dinner in the MUC Ballroom. The meals are provided at no cost and include turkey, mashed potatoes, green beans, corn and warm dinner rolls.
"There is a kid's corner where everyone can learn about the nativity, and maybe gain a better understanding of why we do this. We also have a 'love your parents' store. In there, we provide small gifts for the kids to pick out and give to their parents on Christmas morning."
Vaughn and his team estimated close to 1,000 people would attend this year's event.
"We planned to welcome somewhere between 800 and 900 people today," Vaughn said. "Right now, the doors have only been open for 26 minutes, and we've had almost 500 come through already."
For many years, the City of Clarksville has contributed to Warm Souls' success by offering free transportation to those who might not otherwise be able to attend.
"The Clarksville Transit System is bringing people to us today," Vaughn said. "They are running their normal bus routes, but today, anyone can get on the bus, tell the driver they want to come to Warm Souls, and they'll be brought here for free."
The event was scheduled from 10:00am – 2:00pm. Vaughn says the volunteers usually start cleaning up around 1:00pm, but tend to stay as long as there are items to give.
"We want to make sure that everyone gets in," Vaughn said. "This year, we are thankful to have close to 400 volunteers. It's a four day process getting everything set up for Warm Souls, but, it's about a 3-1/2 month planning process to bring it all together."
Clarksville Mayor Joe Pitts, accompanied by First Lady Cynthia Pitts were helping with dinner service in the MUC Ballroom. Mayor Pitts took a short break to talk about Warm Souls for a moment.
"Well, first of all, I'm thankful to Jon Vaughn, Radical Mission, and the hundreds of volunteers who are here today," Pitts said. "There are multiple agencies like YAIPaks and others, local businesses and individuals, who have come out to help. I'm grateful for their dedication to this ministry.
"Warm Souls has become a tradition, counted on by many in our community. Folks in need can get a good hot meal, a haircut, toys, clothing, family portraits. Warm Souls is the whole package. It provides so much of what is needed. This event really represents what Clarksville is all about."
Photo Gallery