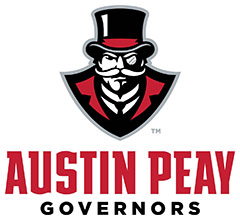 Clarksville, TN – Austin Peay State University (APSU) alumni Melton Self grew up in Alabama but certainly made his life—an impactful one—in Tennessee. But it almost didn't happen. In fact, Self twice almost stayed in his home state, but thoughts of the Alabama coal mines got the better of him and changed his mind.
Self was born in Dora, Alabama, and starred as a prep running back at Dora High School alongside Ben Fendley. Football coach Dave Aaron offered both scholarships. Fendley readily accepted to come north to Tennessee and Austin Peay State University. But Self still had a year of high school eligibility remaining at Dora but accepted his offer a year later (1947).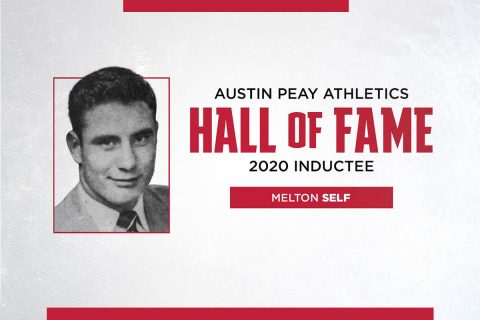 Self knew he wanted to be a high school coach as far back as the fourth grade, says his widow, Mary Anne. He didn't realize at the time the schooling it required to achieve that goal.
While in high school he spent a summer working the coal mines alongside his dad, As a result, Self was sure that coal-mining life was not for him. When he discovered that scholarship offer was still at hand in Clarksville and at APSU, Self seized the opportunity.
The 1947 Christmas holidays—after his first season at Austin Peay State University—Self returned home for the holiday break. For the second time in less than a year, he did some Self reflecting, not sure whether he was school material, whether it was the best for him and his family to remain at Austin Peay State University.
His longtime friend and teammate Hendricks Fox loves to tell the story. "Yeah, Melton told his dad he was just going to stay there (in Dora) after Christmas, he was not going back. His dad told him 'that was fine, I have a time card waiting for you (at the coal mine).'
"Melton said: 'I don't think so…and I hitchhiked back that Sunday.'"
After converting from running back, Self started at left guard while Julius Sneed was the starting right guard. They played on each side of Fox. What made the man nicknamed "Uncle Meltie," who stood only 5-9 and weighed 165 to 170 pounds, so effective and dependable as an offensive lineman?
"He was quick as a cat and he had such great balance," Fox said. "I remember times when after snapping the football I would look up and there would be legs that almost hit me. He was so good, so quick he could turn (an opposing lineman) upside down just like that."
Former teammate, George Fisher, also a Hall of Fame member, once said: "Pound for pound Melton Self was the best football player that has ever played at Austin Peay."
Self, in fact, was a four-season starter at left guard. "Whenever we had to have a yard, we knew where to run, between Fox and Self," said the late Fendley, also an Austin Peay State University Athletics Hall of Fame member and Self's former prep teammate. Austin Peay State University went 24-12-2 in Self's four football seasons, including back-to-back eight-win campaigns in 1948-49. Self was an All-Volunteer State Athletic Conference choice as a senior.
Self graduated from APSU in 1951, and also attended Peabody College where he received a Master's Degree in Education in 1954. Before entering the teaching and coaching professions, Self served in the Air Force for two years where he received a commission of 2nd Lt. His love of sports called him back to Tennessee where he taught and coached for 30 years in the Dickson County system. His wife, Mary Anne, who he met when he was a junior and she an Austin Peay State University freshman business student, was from Dickson.
Unquestionably, his first love was football. He helped lead the 1958 Dickson County football team to a perfect record and to three bowl games. But he also coached basketball. Although he had never seen a girls basketball game previously, he took over a losing girls program and took them to the state tournament for three straight years in the early 1960s. Whether it was working with football, basketball, baseball or as a coach, teacher or administrator, Self was committed to his students and their welfare.
As a result, to honor Self for his longtime dedication to Dickson County and its students, the Dickson County Board of Education in 2004—10 years before his death at age 86—dedicated the then Dickson County High School Gymnasium…the Melton Self Gym.
"He just couldn't believe it—he was so proud," Mary Anne Self said, "He would just say 'if they were going do something like that I figured it would be after I died.' There were times he would say 'let's go ride over to the gym to see if my name is still on it.'"
And now Melton Self, Uncle Meltie, joins former line mates Hendricks Fox and Julius Sneed as a member of Austin Peay State University's Hall of Fame. The induction ceremony is set for January 24th, 2020 in the Morgan University Center.
Brad Kirtley, Austin Peay State University's sports information director from 1984-2016, will provide an in-depth look at each member of the 2020 Austin Peay State University Athletics Hall of Fame induction class. The 2020 APSU Athletics Hall of Fame induction ceremony will be a 6:00pm dinner on Friday, January 24th at the Morgan University Center ballroom; the honorees also will be recognized during the following night's men's basketball contest against Belmont.
For more information about the Hall of Fame dinner and to make reservations to attend, call Tara Pfeifler, 931.221.6119 or email .