Austin Peay (10-7 | OVC 4-0) at Southeast Missouri (4-13 | SEC 0-4)
Thursday, January 16th, 2020 | 7:15pm CT
Cape Giraredeau, MO | Show Me Center

Clarksville, TN – After hosting Southeast Missouri to open Ohio Valley Conference play scarcely two weeks ago, the Austin Peay State University (APSU) men's basketball team will visit the Redhawks at the Show Me Center for a 7:15pm tipoff, Thursday, January 16th.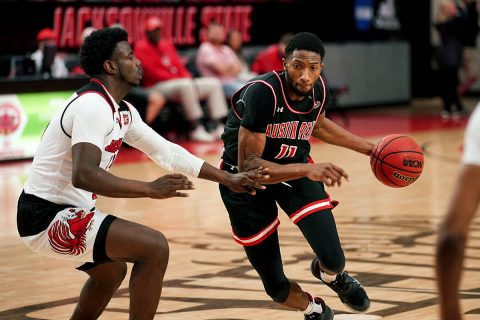 This is the third game of a four-game road trip.
The Govs are one of two unbeaten teams remaining in the OVC, and it's bad luck for SEMO that they'll face both this weekend.
Murray State visits the Redhawks on Saturday.
About the Southeast Missouri Redhawks
The Southeast Missouri Redhawks have scuffled in a variety of ways in 2019-20, but their most consistent struggles have centered around ball control. An assist-to-turnover ratio of basically zero (plus-0.7, to be technical) is mitigated by the fact that it's mostly not because of turnovers–the Redhawks are simply predictable with the ball, as one of just 11 squads in Division I averaging less than 10 assists per night as a team.
Defensively, Southeast Missouri's 36.5 three-point field goal defense is inflated somewhat by facing five of the NCAA's top-100 three-point shooting teams; however, that doesn't account for a 47.3 percent mark overall that ranks 333rd in Division I, nor the 47.8 percent mark from deep the APSU Govs, who are hitting one-third of their threes overall in 2019-20, put up in the first contest in Clarksville.
Sage Tolbert and Alex Caldwell both popped from deep in the first meeting with the Govs–Austin Peay State University can't afford to let either get hot from beyond the arc in front of the home fans on Thursday.
Austin Peay State University's Last Game Against Southeast Missouri
The APSU Govs got the Ohio Valley Conference slate off to a solid start with a comfortable 78-63 win against Southeast Missouri, January 2nd. Jordyn Adams did the first-half damage with 17 points in the opening frame and Austin Peay State University closed the half on a 14-2 run with 10 points coming from the talented freshman from Silsbee, Texas.
The Govs simply didn't allow SEMO any room to work on the glass, outrebounding the Redhawks by 20 and putting up 18 second-chance points.
Keep An Eye On
A win would be Austin Peay State University's seventh straight against Southeast Missouri—equaling a seven-game streak from 2008-11.
With a total of seven honors between them, Adams and Carlos Paez are the first OVC freshman teammates to each win three or more Freshman of the Week honors in the same season since UT Martin's Troy King and Mike Liabo during the 2010-11 season.
If the APSU Govs are going to win, they'll do so by winning the second-chance points battle. Austin Peay State University is 10-3 when outscoring their opponent in second-chance attempts.
Paez has a 3.2-to-1 assist-to-turnover ratio since joining the starting lineup, December 21st (seven games). Butler has a 3.0-to-1 ratio since league play began.
Austin Peay State University has a plus-4.8 turnover margin over the last five games.
The APSU Govs would secure their fifth straight win at the Show Me Center for the first time in series history.
In the last meeting against Southeast Missouri, the Govs hit a season-high 11 three-pointers and equaled their season-low with 13 fouls committed.
In their 10 wins, the APSU Govs are now hitting 50.8 percent (305-for-600) from the floor.
At a combined 38.9 points per game, Adams and Terry Taylor are the second-highest scoring duo in Division I.
Since league play began, Taylor is posting 23.8 points on 54.5 percent (36-for-66) from the floor and 78.3 percent (18-for-23) at the free-throw line, with 11.0 rebounds and 1.5 steals.
A win would extend Austin Peay State University's winning streak to a season-best five games.
Milestone Watch
Taylor needs 27 points to pass Trenton Hassell and take sole possession of 10th-place in career scoring at Austin Peay State University. If Taylor pulls down five rebounds, he'll pass Josh Lewis for ninth and would pass Ralph Garner for eighth with a 14-board effort.
APSU Tickets
Governors Courtside Seating returns for the 2019-20 season. Fans can contact the APSU Athletics Ticket Office for courtside seating availability and pricing. The VIPeay Hoops Experience, available to Black Tie Monocle Society members and above, also returns for 2019-20 after a successful debut last season. For more information on joining the Governors in the Dunn Center this winter, to secure season tickets or to become involved with the Monocle Society, call 931.221.PEAY.
You can also purchase tickets online at www.LetsGoPeay.com/buytickets; be sure to access the new 360-degree view of the Dunn Center when purchasing tickets.
APSU Govs Online
Check back at LetsGoPeay.com and on Austin Peay State University's Official Athletics Facebook page often for up-to-date news about all APSU Governor athletics, as well as the Governor men's basketball Twitter page (@AustinPeayMBB). Live stats will be available during the game at PeayStats.com, and all home games and Ohio Valley Conference games can be viewed on the ESPN+ app.