Clarksville, TN – The Austin Peay State University (APSU) men's basketball team may well lose a conference game before the year ends. Even the best teams usually take one on the chin during conference play at some point.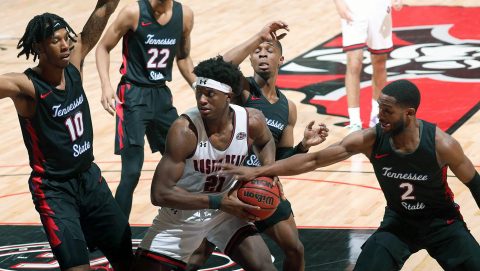 But it didn't happen Thursday night against a feisty-if-limited Tennessee State, who became the latest team to find itself on the wrong end of a score in the Dunn Center.
Behind exemplary efforts from Jordyn Adams and Terry Taylor, the Govs rolled to a 99-74 win to remain unbeaten in the league and at home.
An Adams dunk got the game rolling for the Govs, and with Tennessee State limited to eight dressed players, the Tigers margin for error was razor-thin; for a team that plays as physically as Tennessee State, fouls can often become a problem.
So the Govs went on the attack early, slashing the lane and kicking out to multiple wide-open shooters. Adams and Terry Taylor each had multiple three-pointers before six minutes passed in the contest and the Govs were in control early.
Most teams have begun keying on either Adams or Taylor; Tennessee State took a different track, surrendering Austin Peay's first 21 points to the duo before an Antwuan Butler jumper near the midway point of the first-half. In fact, the dynamic duo scored 45 of Austin Peay's 52 first-half points. Adams continued his big-boy performance from Saturday, racking up 24 first-half points by himself.
The second half brought a different look from Tennessee State–the Tigers deployed all manner of trapping, pressing, helping and double-teaming to put more pressure on Adams and Taylor. It did not work as well as the Tigers probably would've like it to; while Adams' point-per-minute pace dropped off, Taylor became the catalyst everything ran through in the second half.
There's no singular moment that encapsulates the dominance on display by the Govs. They rarely if ever needed a bucket, but Adams and Taylor got some anyway. When things got chippy, the Govs had each other's backs, stuck up for one another and refused to give an inch. It was a championship performance, one they'll look to replicate Saturday when Belmont visits.
The Difference
Turns out, having two of the five best players in the league by nearly any conceivable measure can make a real difference! Taylor and Adams each finished with 37 points; while we rarely make proclamations without evidence, it stands to reason that is the highest-scoring night by an Austin Peay State University duo in program history.
APSU Notably
Taylor made all six of his three-pointers, a career high for him as an individual that also set a Dunn Center record for most threes without a miss in a single game.
The APSU Govs are 7-0 in league play for the first time since 2007-08. Austin Peay State University has also won 11 straight at home, longest since that same 2007-08 season.
The Govs have scored 90-plus points in back-to-back games for the first time since December 8th-15th, 2018 against Calvary and Purdue Fort Wayne.
Austin Peay State University's average turnover margin is plus-4.25 over the last eight games.
At 21-for-23 from the free-throw line, Austin Peay State University's 91.3 percent showing was a season-high.
For the first time this season, Austin Peay State University had two double-digit rebounds. Taylor pulled in 14 as part of his season's eighth double-double, while Eli Abaev also wrangled a career-high tying 11 boards.
The Govs are 10-0 when scoring at least 80 points in 2019-20.
Austin Peay State University's 14 three-pointers were a season-high and most since the 2018-19 home finale against UT Martin, February 23rd. Austin Peay State University is averaging 11.0 three-point field goals over the last four games.
Since OVC play began, Austin Peay State University is outscoring opponents on second-chance points 14.9 to 9.0.
Butler and Carlos Paez combined for 13 assists and just one turnover. As a team, the Govs committed a season-low four turnovers, their first game with fewer than five turnovers since at least the 2010-11 season. Paez is now at an outstanding 4.3-to-1 assist-to-turnover ratio since joining the starting lineup.
Milestone Watch
Taylor passed Anthony Davis (2001-05) for ninth all-time in career scoring with 1,674 points and moved past James Williams (1972-74) for eighth all-time in field goals with 639. The Bowling Green native also took sole possession of sixth all-time in career rebounds, passing Tommy Brown (1988-91) and John Fraley (2008-11) with 767.
Coaching Quotables with APSU Head Coach Matt Figger
On the win
"Outside of a span near the end of the first half, we played really, really well. Vinny [Vetrone] told me after the game it was like watching Steph Curry and Klay Thompson out there tonight. I feel like we executed the game plan and offensively, with 99 points… it's hard to lose."
On league ramifications
"I told our guys, we did the hard part. We went and played four on the road and went 4-0. Why would you come home for four at home and play with complacency? There's too much at stake. If you want to be a contender, you come out and play like we did tonight."
Next Up For APSU Men's Basketball
A massive battle between two league favorites takes place Saturday afternoon when the APSU Men's Basketball team welcomes Belmont into the Dunn Center. Tip-off is scheduled for 4:00pm.