Clarksville, TN – After a pair of road matches a weekend ago, the Austin Peay State University (APSU) men's tennis fell,7-0, on the road at Lipscomb, Friday, before dropping the spring season home opener to Chattanooga, 7-0, Saturday at the Governors Tennis Center.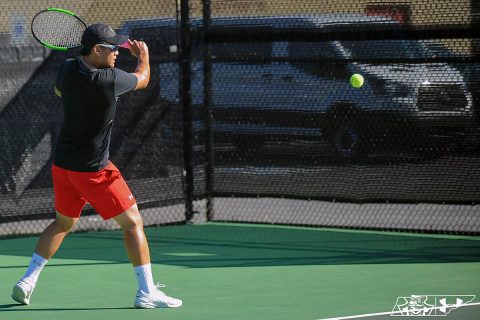 For the third and final game of a season-opening three-game road trip, the Governors made the quick trip down I-24 to take on Lipscomb.
In doubles action, Lipscomb won the No. 2 and No. 3 matchups to claim the doubles point before the No. 1 matchup could finish. Anton Damberg and Julius Gold dropped their match on the No. 2 line, while Hunter Sanders made his 2019-20 season debut alongside Oliver Andersson, dropping the No. 3 doubles match. Christian Edison and Jacob Lorino were trailing, 4-3, when the No. 1 doubles match was called.
In singles play, Edison was once again played as Austin Peay State University's No. 1. Edison won the second set of the match, but dropped the point to the Bisons' No. 1. Damberg, Gold, Andersson, and Lorino played as the Govs No.2, 3, 4, and 5 for the third straight match, but the all came up short in singles play against Lipscomb.
The final singles match for the Govs featured Sanders playing as the No. 6 and falling in his spring season singles debut.
Saturday, the Governors welcomed the Mocs of Chattanooga to Clarksville. In doubles play, the APSU Govs rolled out the exact same lineup as they did against Lipscomb, only to find the same result – dropping all three matches.
The Govs singles lineup was also the same as it was at Lipscomb, and once again, Austin Peay State University found the same result – falling in all six singles matches. Edison played one of the tightest matches of the day, forcing tiebreakers in both sets. Lorino also picked up a set win, knocking off Chattanooga's No. 5 in the second set.
Next Up For APSU Men's Tennis

The Austin Peay State University men's tennis team will host a 2:00pm, Friday, match at the Governors Tennis Center against Illinois State. After the APSU Govs take on the Redbirds, they will head back out on the road for a 2:30pm, February 8th, match at Wright State.
Lipscomb Results
Doubles
Victor Chaw/Pablo Caffarena (LIP) def. Jacob Lorino/Christian Edison (APSU) 4-3
Jorge Ortegon/Pedro Uribe (LIP) def. Anton Damberg/Julius Gold (APSU) 6-3
Gonzalo Garcia-Nieto/Jake Penny (LIP) def. Oliver Andersson/Hunter Sanders (APSU) 6-2
Singles
Victor Chaw (LIP) def. Christian Edison (APSU) 6-2, 1-6, 7-5
Pablo Caffarena (LIP) def. Anton Damberg/ (APSU) 6-2, 6-1
Jorge Ortegon (LIP) def. Julius Gold (APSU) 7-5, 6-2
Pedro Uribe (LIP) def. Oliver Andersson (APSU) 6-2, 7-5, 0-6
Gonzalo Garcia-Nieto (LIP) def. Jacob Lorino (APSU) 6-1, 6-0
Maksim Bogdanovich (LIP) def. Hunter Sanders (APSU) 6-3, 6-1
Chattanooga Results
Doubles
Simon Bustamante/Kerim Hyatt (UTC) def. Jacob Lorino/Christian Edison (APSU)
Tomas Rodriguez/Niklas Gerdes (UTC) def. Anton Damberg/Julius Gold (APSU)
Luke Plaisted/Jeffrey Dewald (UTC) def. Oliver Andersson/Hunter Sanders (APSU)
Singles
Niklas Gerdes (UTC) def. Christian Edison (APSU) 7-6(5), 7-6(3)
Tomas Rodriguez (UTC) def. Anton Damberg/ (APSU) 6-1, 6-3
Kerim Hyatt (UTC) def. Julius Gold (APSU) 6-4, 7-5
Jeffrey Dewald (UTC) def. Oliver Andersson (APSU) 6-3, 6-2
Simon Bustamante (UTC) def. Jacob Lorino (APSU) 6-3, 6-7, 10-7
Jacob Marshall (UTC) def. Hunter Sanders (APSU) 6-3, 6-0