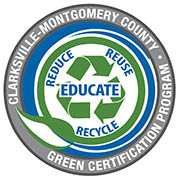 Montgomery County, TN – On Tuesday, January 21st, 2020, a green ribbon cutting was held to welcome Richview Middle School to the Green Certification Program. Richview Middle becomes the first middle school in the Clarksville-Montgomery County School System (CMCSS) to complete the Program.
The ribbon cutting ceremony included remarks by Richview Middle Energy Champion Jason Groppel, Richview Middle Principal Lisa Baker, CMCSS Director of Schools Millard House II and Montgomery County Mayor Jim Durrett.
The students of Richview Middle's Green Team also participated in the ceremony and explained their recycling efforts throughout the school.
The Green Team picks up paper recycling from classrooms once per week. After pick-up, students weigh the paper and record the data.
On average, the Green Team students collect 700 pounds of paper per week, however, nearly a ton of paper was collected for recycling during the final week of school last year, and over the course of the school year it is predicted that eleven tons of paper will have been recycled.
Jason Groppel, who oversees the Richview Middle Green Team, said the sustainability efforts of Richview Middle and CMCSS are important for the students and community.
"Our efforts here will have a ripple effect, extending to our students' families and neighbors. Yes, it creates awareness and saves our environment, but beyond that, the application of 'The Three R's' – reducing, reusing and recycling are immediately efficacious – saving CMCSS tens of thousands of dollars annually, and that's a big deal," stated Groppel.
Mayor Durrett asked the students if they recycle at home. One student, Emily, said she did, and that she had convinced her stepfather to create a recycle bin for their house. The Mayor thanked the students for everything they do for their school and the community.
In addition to recycling, Richview Middle was one of 26 CMCSS schools that recently upgraded to LED lighting. The new LEDs provide light that most closely matches daylight while saving approximately 90% on energy costs. LEDs also turn on immediately, without needing to warm-up. This allows the lights in Richview Middle's gymnasiums to be turned-off when not in use during school hours. Prior to the LEDs, it took up to 30 minutes for the gymnasium lighting to warm-up, meaning the lights needed to stay on all day.
For more information about Richview Middle School and all other public schools within Montgomery County, visit www.cmcss.net.
About Clarksville-Montgomery County Green Certification
The Clarksville-Montgomery County Green Certification Program promotes environmental stewardship within Montgomery County. The free Program is open to any organization with a physical location within the County and focuses on expanding recycling and improving resource efficiency. If your organization is interested in learning more about the Program, contact Carlye Sommers at or call 931.245.1867.
You can also find information about the Program at http://mcgtn.org/green.