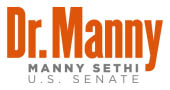 Nashville, TN – Dr. Manny Sethi, conservative Republican candidate for U.S. Senate, announced that his campaign raised over $500,000 this past quarter and will show nearly $2 million cash-on-hand in his campaign's financial disclosure to the Federal Election Commission due January 31st.
Since June, this campaign has amassed nearly 7,000 donors, from all 95 counties and all 50 states, with a median donation of $25.00.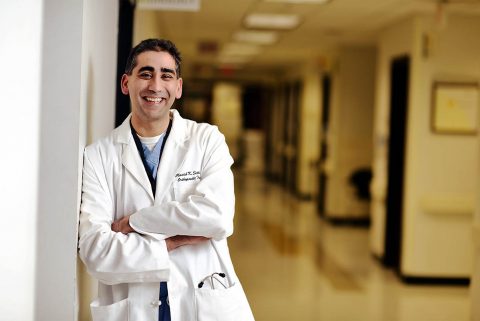 "We are so grateful for the outpouring of support across our state. This quarter is yet another sign that Tennesseans want to send a conservative outsider to Washington," said Dr. Manny Sethi.
"Dr. Manny continues to rack up significant support and is investing in a powerful campaign apparatus. With our organization and the significant war chest we have amassed to spend on the primary, we are in a strong position to win the GOP nomination," said Chris Devaney, Campaign Chairman of Dr. Manny for U.S. Senate.
Of the nearly $2 million that the campaign has on hand, over $1.7 million is eligible to be used for the August Primary, with under $250,000 donated towards the General Election in November.
The candidate made no personal loans to his campaign in this quarter.
About Dr. Manny
Dr. Manny Sethi is an orthopedic trauma surgeon and the founder of Healthy Tennessee, a nonprofit organization that works to promote preventative health care across the state. The organization has cared for thousands of patients in almost every county in Tennessee.
Raised in Coffee County, Dr. Manny received his undergraduate degree from Brown University. He then went on to receive his medical degree from Harvard Medical School. After college, as a Fulbright Scholar he worked in Tunisia with children suffering from muscular dystrophy. Dr. Manny returned home to Tennessee to impact change in healthcare and education.
He is the co-editor of An Introduction to Health Policy with Senator William Frist, MD, and author of The American Dream in Tennessee: Stories of Faith, Struggle, and Survival, a book about the power of faith, family, and community in the treatment of near-life-ending trauma.
He is married to Maya, and together they have two children. The family attends McKendree United Methodist Church in Nashville.
More information about Dr. Manny and his campaign can be found at DrMannyforSenate.com.