Clarksville, TN – On Friday, January 31st, 2020, the Clarksville Montgomery County Economic Development Council (EDC) announced that Nashville based, Hodgson Douglas, LLC – Planning, Landscape Architectural and Urban Design services firm (HDLA) has submitted a proposal to provide a planned Streetscape project located in the Vulcan corridor – to include approximately 3,000 linear feet along College Street from Kraft Street to Ninth Street.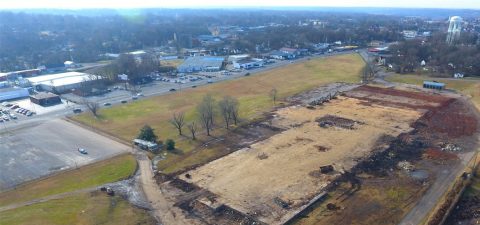 "HDLA seeks authenticity by honoring local history and natural context while also pursuing imaginative and innovative solutions," said Richie Jones, Partner at HDLA "and we are appreciative for the opportunity to work with the Clarksville-Montgomery County Economic Development Council on this exciting project"
HDLA is no stranger to Clarksville – the Downtown Commons was initially an HDLA civic design to redefine the core of Downtown Clarksville, serving retailers, restaurants, residents, and visitors alike through the creation of a gathering place for the community.
According to the HDLA proposal, streetscape planning will include a hardscape finishes plan depicting paving patterns and finishes, product and detail references. HDLA will provide full planting plans and schedules for all landscaped areas of the streetscape along with irrigation plans and full specifications outlining the parameters and irrigation system requirements.
"Completion of a streetscape plan will pave the way for new development by accelerating the due-diligence and planning required for potential incoming investors, as well as provide a much-needed face-lift to the area for our residents, many visitors, Austin Peay State University students and potential recruits" said Lawson Mabry, Aspire Clarksville Foundation Chair.
Funding for HDLA to complete the streetscape proposal contract on behalf of the EDC comes from Aspire Clarksville – a 501(c)(3), whose mission includes continuously improving the economy and the livability (quality of life) of the community for Clarksville-Montgomery County.
"This streetscape planning dovetails perfectly with our vision for redevelopment of the Vulcan property and creating a new gateway to APSU and downtown. We are grateful for Aspire's investment to get the ball rolling and start the planning necessary to reshape the look and feel of this important thoroughfare." said Joe Pitts, Clarksville Mayor.