Nashville, TN – The Austin Peay State University (APSU) men's basketball team will have to regroup following its first back-to-back losses since November after the Govs fell to a surging Belmont unit in a 71-63 contest at Curb Event Center, Saturday.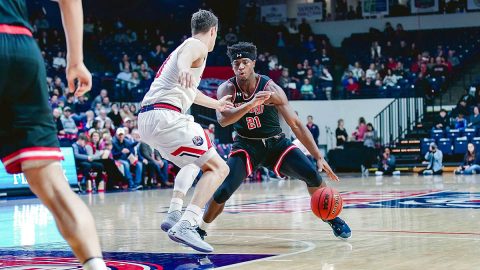 For the Govs, Saturday represented a chance at redemption; Austin Peay State University's loss Thursday night at Tennessee State was its first since league play began.
However, the start was sluggish; Austin Peay State University had trouble keeping Belmont off the scoreboard early, with the Bruins hitting seven of their first 11 shots to stake an early lead.
Belmont held a lead for much of the half, although the Govs clamped down defensively and ultimately held the Bruins below 50 percent from the floor for the half. Belmont made an early 11-4 run stand up until the Govs began to whittle away at it.
Austin Peay State University closed the gap to two points by halftime, with Terry Taylor scoring seven of Austin Peay State University's 15 points over the final 7:15 of the half.
When Belmont threatened to pull away early in the second half, it was Antwuan Butler who hit a pair of huge three-pointers to keep the Govs close, and it was Taylor who put the Govs on his back to mount the challenge. He scored 11 points over a five-minute stretch to bring the APSU Govs within a bucket despite defensive efforts that keyed on him; on one entry pass, no fewer than four Bruins converged on Taylor.
From the 11:30 mark until less than six minutes remained, Belmont hit just one shot from the floor. A stagnant Bruin offense was just what the Govs needed, yet the Govs didn't make a dent in the seven-point deficit.
A sequence following a Taylor three-pointer to cut the deficit to two at the 8:16 mark served as the defining moments of the contest: two Austin Peay State University turnovers, a rushed shot in the lane and a shooting foul to give Belmont two more points, followed by two more turnovers before Grayson Murphy snapped Belmont's old spell with a three-pointer.
Over the final 5:19 following Murphy's three, Belmont kept the lead at multiple possessions, although the resolute Governors continued to fight. A Butler three-pointer with 1:10 to play cut the deficit to five points, but Belmont hit 7-of-8 at the free-throw line down the stretch to prevail.
Taylor turned in one of the most electrifying performances of his collegiate career, scoring 26 points and pulling down a career-best 23 rebounds; he's the first APSU Gov with a 20-20 contest since Chris Horton (March 2nd, 2016 against Tennessee Tech). His 23 rebounds set the Curb Event Center record and are the most by an OVC player since Kenneth Faried (Morehead State, January 27th, 2011.
The Difference
Belmont shot 24 free throws, making 18. Austin Peay shot a dozen, hitting a season-low seven. Interpret that however you wish.
APSU Notably
Austin Peay State University has now suffered back-to-back losses for the first time since November 9th-20th, 2019 and the first time against league foes since February 28th-March 2nd, 2019.
The APSU Govs controlled the glass against Belmont, outrebounding the Bruins 40-27; Taylor had more offensive rebounds by himself (eight) than Belmont did as a team (three), which contributed to a 21-2 advantage in second-chance points. Over the last seven games, Austin Peay State University is outscoring its opponents 95-50 in second-chance points. Since league play began, Austin Peay State University is outrebounding its opponents by an average of 5.3 rebounds per game.
Taylor is averaging 20.5 points on 54.2 percent from the floor, with 14.3 rebounds and 2.5 assists over the last six games.
In their nine losses, the Govs are shooting just 38.0 percent (200-for-526) from the floor.
The APSU Govs have lost five straight games at Curb Event Center.
Milestone Watch
Taylor passed Chris Horton for seventh all-time with 671 career field goals. He moved into the career top-10 in field goal attempts (1,233) also became the 13th player in program history with 300 made free-throws.
Coaching Quotables with APSU Head Coach Matt Figger
On Belmont
"They made some big threes. They're really good at ball movement. The game turned for me at 52-50, when we have five straight empty trips. That's the difference in the game."
On protecting his players
"I'm going to protect my guys, and I'm going to protect them until the end. I didn't like the way things were going, and I'm going to protect my guys."
Next Up For Austin Peay State University

The schedule gets no easier from here; Austin Peay State University men's basketball hosts Murray State in a nationally-televised ESPNU contest, February 13th, followed by a visit from Eastern Kentucky, Saturday.