Clarksville, TN – The Austin Peay State University (APSU) baseball team begins its 81st season when it hosts Eastern Michigan in a three-game series, Saturday-Sunday, on Joe Maynard Field at Raymond C. Hand Park.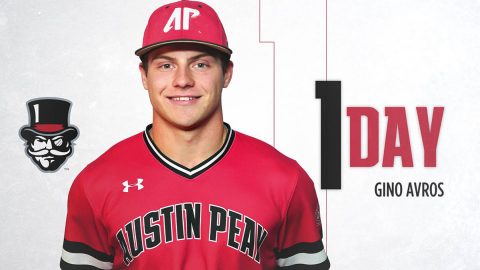 The Govs and Eagles are slated to start the season with a noon, Saturday doubleheader followed by a 1:00pm start, Sunday.
Governors fifth-year head coach Travis Janssen overseeing a near reconstruction of his roster with 17 newcomers joining 16 returnees for the upcoming 55-game regular season campaign.
Leading that group of returnees is sophomore center fielder Garrett Spain, the 2019 Ohio Valley Conference Freshman of the Year and 2020 Preseason All-OVC selection.
Eastern Michigan is helmed by second-year head coach Eric Roof, who brought in 10 newcomers to bolster his roster. The Eagles will lean pitcher Scott Granzotto and catcher Nick Jones – both seniors returning from 2019 injuries – to lead the squad through its 2020 schedule.
Noon, Sat., Feb. 15
4:00pm, Sat., Feb. 15
1:00pm, Sun., Feb. 16
PROJECTED STARTERS
APSU: Harley Gollert
(LHP | 0-1, 9.64 ERA, 7 K)
EMU: David Feldman
(RHP | Missed 2019)Gollert makes his return to the mound as the opening day starter after suffering an injury during Week 2 of the 2019 season. He was 3-3 with 3 saves and a 5.91 ERA en route to 2018 OVC All-Freshman team honors in 2018.
PROJECTED STARTERS
APSU: Hayden Josephson
(RHP | 1st APSU Start)
EMU: Justin Meis
(RHP | 3-7, 7.45 ERA, 42 K)Josephson makes his APSU debut after making 26 starts in two seasons at American River College in California. Last season, he posted a 3.43 ERA and struck out 80 batters over 84 innings, but was left with a 3-10 record.
PROJECTED STARTERS
APSU: Tyler Thompson
(RHP | 1-2, 8.57 ERA, 41 K)
EMU: Scott Granzotto
(LHP | 3-6, 3.88 ERA, 47 K)Thompson is in line to make his 13th start with the Govs after starting 8 games last season. He has 53 career appearances in three seasons, ranking 39th in APSU program history.
Live Stats
Live Stats
Listen | Live Stats
First Hacks
Spain finished his freshman campaign ranked among the OVC Top 10 in runs scored (53) and RBI (52) while his .333 batting average was 11th best among league hitters.
Transfer freshman Skyler Luna begins his APSU career in right field after sitting out a year following a fall semester at Tennessee. He was a two-time all-state selection at Clarksville High School and head coach Brian Hetland, a former Govs assistant elected to the Tennessee Baseball Coaches Association Hall of Dame this past winter.
Junior transfer Ty DeLancey takes over in left field. He ranked 46th among NJCAA hitters in RBI (59) and 95th in runs scored (54) last season at Chattanooga State to earn Second Team All-TCCAA honors.
Sophomore designated hitter Matt Joslin was the right man in the right spot in 2019. He batted .643 with 20 RBI in 15 bases-loaded opportunities last season, including a pair of grand slams.
Sophomore first baseman John McDonald bounced back from an early season injury to bat .381 during the final 26 games of the 2019 regular season. He posted a .289 batting average with 14 RBI overall.
Junior Malcolm Tipler will begin 2020 at second base after starting at four different positions in 2019. He batted .411 (14-of-34) over the final 11 games of 2019 with six extra-base hits (2 HR) and 10 RBI.
Junior Bobby Head is penciled in as the opening day starter at shortstop for the second consecutive season. He played the first 14 games of 2019 at shortstop before moving to second base. Head posted seven home runs and 23 RBI in 119 at-bats last season.
Freshman third baseman Gino Avros played in 53 games last season, starting 47 games at third base with the Govs posting a 31-16 record when he started on the hot corner last season.
Austin Peay will have a new group of catchers in 2020 after the departure of four-year stalwarts David Martinez and Alex Sala, who combined to play in 271 games over the past four seasons. Junior transfer Alex Hay and freshman Tyler Cotto will take over behind the plate this season.
From The Mound
The biggest changes for the APSU Govs from a year ago will be featured on the mound. Austin Peay State University saw each of its three weekend arms, setup man and closer depart due to graduation.
Only two returnees posted 40-plus innings of work last season. Scheduled Game 3 starter
Tyler Thompson
leads that group with 48.1 innings pitched followed by
Ryan Kouba
(40.2 innings). Of the 504.1 innings pitched last season, the seven returnees accounted for 179.1 innings (35.6 percent).
Kouba, sophomore Sebastian Martinez and junior transfer Austin Carder will be relied on out of the bullpen to begin 2020.
On Deck In The Midweek
Austin Peay State University Baseball does not have a midweek contest scheduled to conclude Week 1. Next up for the APSU Govs is the SAF Dirt Classic with Missouri State, Evansville, Bradley and Samford each visiting RCHP for a single game. That event is scheduled to begin Thursday against Missouri State. Austin Peay State University alumnus Craig Massoni, who is battling cancer, will toss a ceremonial first pitch prior to the game.