Clarksville Mayor Joe Pitts requests stepped up Enforcement, Cleanups
Clarksville, TN – People who litter Clarksville's streets and roadsides are breaking the law, and Clarksville Mayor Joe Pitts warns that those who do so are subject to citations, fines and even arrest.
"We're seeing an abundance of trash along our streets and roads, and I don't like it," Mayor Pitts said.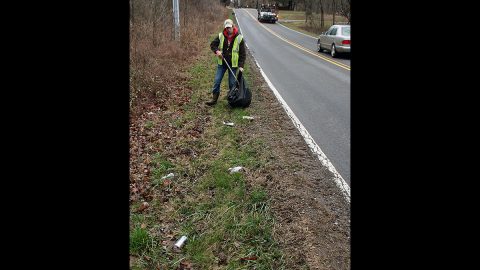 "I'm not sure if this is caused by trash haulers not properly securing their loads, or if people are just throwing stuff out of their vehicles. Whatever the cause, it's unsightly and needs to stop," stated Mayor Pitts.
Mayor Pitts has asked the Clarksville Police Department to emphasize enforcement of the State and City laws against littering, and he's asked the Clarksville Streets Department to dispatch crews as available to cleanup some of the most litter-strewn areas.
"Obviously, littering is a senseless crime, and one that could be prevented if citizens and businesses would simply secure loads and dispose of trash properly," Mayor Pitts said. "It's sad that we have to direct precious resources to fighting litter, but we're going to do it and try to reverse this trend."
Clarksville Street Department crews were working to remove litter from various city roads across the city on Thursday, including Dunbar Cave Road, Crossland Avenue, North Second Street and Ringgold Road. Workers reported they picked up 170 large bags of refuse along Whitfield Road on Tuesday.
A violation of the city's anti-litter codes could result in a citation to City Court and a fine of up to $50.00. Criminal violation of state laws against littering could result in arrest and charges ranging from a misdemeanor to a Class E felony, depending on the amount of litter and the circumstances.
The City code says:
"It shall be unlawful for any person to place or throw any garbage, trash, wastepaper, or any other refuse material in or upon any street or other public way or place within the city except in authorized garbage containers.
"All garbage or refuse containers either for private, commercial, industrial, institutional, governmental, public, and semi-public uses shall be so covered as not to allow garbage or refuse to spill from the container upon the ground.
"No person shall haul garbage or trash through or along the streets and alleys of the city unless the refuse is so covered as to prevent it from falling or being blown out along the streets or alleys.
"It shall be unlawful for any person to place or throw fruit peels, paper, or other refuse, or any glass, glass object, nails, tacks, other hard or brittle substance in or upon any public way within the city."