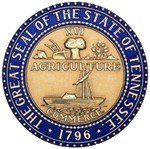 Nashville, TN – Tennessee Senator Bill Powers (R-Clarksville) is pushing passage of a resolution calling for the Tennessee Valley Authority, U.S. Army Corp of Engineers, and other federal authorities to join Tennessee in "aggressively addressing the Asian carp invasion in Tennessee waterways."
Senate Joint Resolution 723, co-sponsored by Powers, recognizes the urgency of the infiltration of the invasive fish into Tennessee's rivers and lakes, the negative effects on the state's ecosystem, and the disastrous economic consequences to the state if the problem accelerates further.
"I just can't state it loud enough," said Senator Powers. "We need immediate action to address this problem."
Powers continued, "These invasive fish have numerous negative ecological and economic impacts on Tennessee communities. This includes fishing, recreational boating, declining lake home values, and an impact on special events, like our annual fishing tournaments."
"It is a huge problem, both locally and for the state of Tennessee as a whole. This resolution calls for a more focused and joint federal-state effort to address it," Senator Powers stated.
Tennessee is an active participant in the Mississippi River Interstate Cooperative Resource Association, an organization of 28 states and federal agencies that are working together to lobby for additional carp management funds.
All species of Asian carp that have entered Tennessee waters compete for space with native fish species, with some reaching 100 pounds. The bighead and silver carp compete with native fish species for food by consuming microscopic algae and zooplankton. Black carp may eat many species of snails and mussels that are native to Tennessee, while grass carp eat vegetation that provides cover for sportfish such as largemouth bass, crappie, and bluegill. www.tngopsenate.com/wp-admin/tools.php
Upon passage, Powers said the resolution will be sent to the President of the United States, the Speaker of the United States House of Representatives, the Majority Leader of the United States Senate, the Tennessee congressional delegation, the Director of the U.S. Fish and Wildlife Service, members of the Board of Directors for the Tennessee Valley Authority, the Commanding General of the U.S. Army of Engineers and other affected state and federal agencies.
The resolution now moves to the Senate floor for final approval.