Clarksville, TN – Clarksville Fire Rescue recently rolled out an automated phone message system to help Clarksville residents comply with open-burning regulations.
Residents can now call 931.645.7454 on the day that they plan to burn to see if burning is allowed.
"The City Burn Ordinance allows residents to burn leaves in their yard provided they follow the guidelines. They are not required to obtain a burn permit to do so. A burn permit is required to burn piles larger than 5 feet in diameter," Clarksville Fire Rescue Marshal Ricky Cumberland said.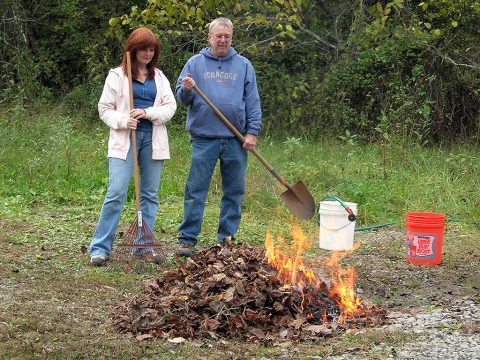 The key factors in whether open burning may occur are the date and the wind speed:
From March 15th to October 14th, burning is prohibited when wind reaches a velocity of more than 15 miles mph.
From October 15th to March 14th burning is prohibited when the wind reaches a velocity of more than 10 mph.
Here is a look at other provisions of the City Burn Ordinance dealing with residential open burning.
No persons shall cause or allow open burning of refuse, garbage or materials from salvage operations.
All leaves must be readily combustible.
An area of at least 10 feet surrounding the leaves must be clear to prevent the spread of fire.
A charged water hose long enough to reach the burn pile must be present.
A burn pile should never be left unattended.
Burning shall not occur within 25 feet of any structure or property line.
Piles of leaves and brush must be smaller than 5 feet in diameter, and only one pile may be burned at a time.
All burning must occur after 7 a.m. and completed before sunset.
If a fire official arrives at the scene, and any of the above conditions have not been met, or other special circumstances exist, the fire official may order the fire to be extinguished immediately.
The full burn City ordinance, which includes the code for commercial and construction burning, is online at http://bit.ly/2lZAtf0.
If you live in Montgomery County, but outside of the City limits, a burn permit is required. Call 877.350.2876 or go to www.burnsafetn.org for information about the burn permit.