Clarksville, TN – CDE Lightband has received a research grant by the American Public Power Association's Demonstration of Energy & Efficiency Developments (DEED) program.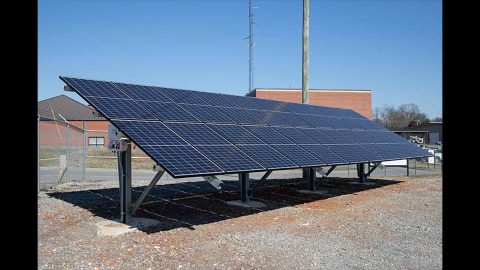 "I'm always impressed with CDE Lightband's ability to stay on the leading edge of the technologies that have an impact on the energy marketplace and customers' needs," Clarksville Mayor Joe Pitts said.
"By installing a solar array at their headquarters, CDE Lightband will be able to study and evaluate the best ways to bring solar power to homes and businesses in Clarksville," stated Mayor Pitts.
The grant allowed CDE Lightband to install and collect data on a 6.38kW solar array in order to create predictive models for solar deployment in Clarksville, TN. The array is located at their main campus at 2021 Wilma Rudolph Boulevard.
"We are very fortunate to be a part of APPA and very excited about receiving the DEED grant," said Brian Taylor, general manager at CDE Lightband. "Our solar project will be used to help educate our employees, so we can better meet the needs of our customers as they look to install renewable power sources at their home or business."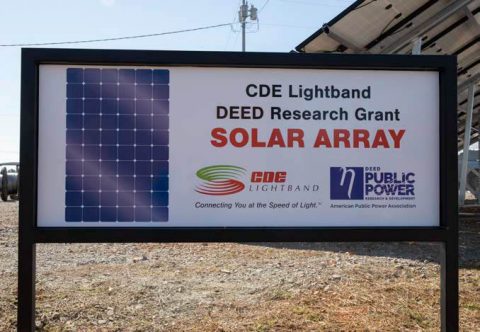 The American Public Power Association is the national organization serving the interests of the nation's more than 2,000 community and state-owned electric utilities. The association established the DEED program in 1980 to sponsor and conduct activities related to energy innovation that improve efficiency or lower costs in providing energy services to consumers of publicly owned electric utilities. DEED funds are used to support innovative utility programs.
CDE Lightband is a member of the Association and DEED.
About CDE Lightband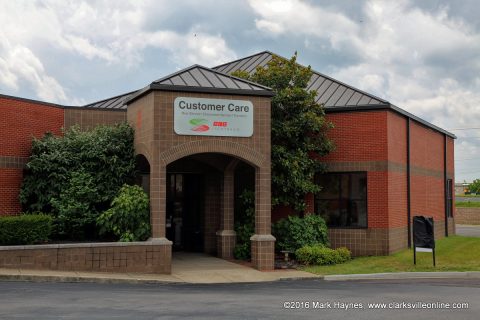 CDE Lightband is a municipally-owned public power and broadband service provider serving 70,000 electric and 22,000 broadband customers with the city limits of Clarksville, TN.
CDE Lightband provides reliable utilities delivered at the speed of light. Our service area, consisting of 100 square miles within the municipal boundaries, includes 892 miles of power lines and 960 miles of fiber optic cable.
Our world-class Fiber Optic Network keeps electric costs low and allows us to deliver exceptional products and constant innovation. The network provides savings of over $1 million annually in operating costs and provides over $5 million annually in income for electrical grid improvements that result in half as many large scale power outages compared to peer cities.
Additionally, access to our network increases home values by 3% or an average of over $5,000, according to the Fiber to the Home Council. Based in large part on access to the superior digital products provided by CDE Lightband, Clarksville has been designated a first 50 "Next Century City."
CDE Lightband offers Electricity, Internet, Digital TV and Telephone services with blazing fast speed and superior performance … with the additional convenience of 24/7 local support and bundling all your utilities into a single bill.
Our staff includes 200 full-time employees, a management team with over 100 years of combined industry expertise and governance provided by a board of five local business leaders.
For more information, visit their website at www.cdelightband.com